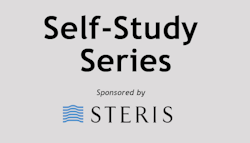 January 2020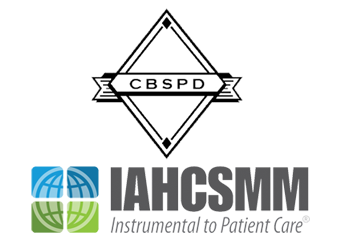 The
CBSPD (Certification Board for Sterile Processing and Distribution)
has pre-approved this in-service for one (1) contact hour for a period of five (5) years from the date of original publication. Successful completion of the lesson and post test must be documented by facility management and those records maintained by the individual until re-certification is required. DO NOT SEND LESSON OR TEST TO CBSPD.
For additional information regarding certification contact CBSPD – 148 Main Street, Suite C-1, Lebanon, NJ 08833 www.sterileprocessing.org.
---
IAHCSMM (International Association of Healthcare Central Service Materiel Management) has pre-approved this in-service for 1.0 Continuing Education Credits for a period of three years, until November 26, 2022.
The approval number for this lesson is STERIS-HPN 192611. www.iahcsmm.org
For more information, direct any questions to Healthcare Purchasing News (941) 927-9345, ext. 202.
Learning Objectives
Identify the key elements assessed by change committees
Define the contents required for a change proposal
Calculate the return on investment 
As we all know, change is constant in the workplace. In healthcare environments, regulatory guidelines change, inspections and audits happen, and new infectious outbreaks raise questions about existing policies and procedures. These events provide opportunities to make changes that achieve optimal processes. However, gaining the approval to implement changes can be challenging, even if those changes could result in a higher standard of care. Process improvement requires formal written proposals. To gain approval, it's important to include all the necessary elements.
Change approval elements
Any change in device processing, no matter how necessary, must be reviewed and approved before being implemented. Each facility's policies and procedures dictate the approval process. While some changes may only require manager approval, others require approval from a change control committee.
Change control committees can consist of cross-departmental representatives from within the healthcare facility. Members may include infection control, risk management, finance, surgery, device processing, facilities, and strategic planning representation. Though each functional group reviews the proposal from its specific perspective, the committee as a whole looks for three key elements: necessity, benefit and cost.
Necessity
The higher the necessity for change to assure the function and wellbeing of the patients and healthcare facility, the more likely the proposal will be approved. High necessity changes are driven by federal or state law, results of credentialing inspections, or actions to stop current facility healthcare-acquired infection (HAI) outbreaks. Low necessity changes typically include proposals offering small improvements. For example, proposals that provide a minor process improvement or waste reduction may have a low necessity.
Benefit
Changes can be beneficial in many ways. Some changes directly improve patient care. Other changes reduce spend. Some changes may improve quality while others increase productivity. Each type of benefit carries a different weight based on the healthcare facility's needs and goals. Those with the most importance to the facility carry the highest weight and will be approved over those that don't align with their goals. Typically, the highest weighted changes include those that directly impact patient care. This is normally followed in importance by cost savings. Changes that indirectly improve patient care or increase department productivity usually fall into third place. Finally, changes that prevent minor inconveniences, such as having to reclean a device found dirty during inspection, would have the lowest weight.
It's also important to note that a benefit may not be a tangible improvement in performance. Some benefits involve the prevention/avoidance of a possible event that could negatively impact a patient or the facility. Changes that may prevent medical errors, unseen contamination and outbreaks can be highly desirable even when none of these events have been documented at the healthcare facility.
Cost
Cost is divided into two buckets; short-term and long-term. Short-term costs include one-time spends associated with implementing the change. Short-term costs may include such things as new equipment, installation, room modification and associated labor. Long-term costs are those costs that reoccur after installation is complete, such as disposables, service, maintenance, and limited reuse items associated with the new process.
Deciding what to work on
The change control committee receives more proposals than the  facility can implement. They are responsible for reviewing all proposals and selecting the ones to implement. Although each facility has its own set of requirements, the decision process is similar for all.
The first projects to be reviewed and approved are those that are legally necessary. These include state mandates, national rulings, and proposals that are intended to address audit findings. Although the facility can continue operating without addressing audit findings from credentialing agencies and The Center for Medicare and Medicaid Services, failure to meet these organizations' mandates can impact payment for a specific set of patients. Depending on the facility's typical patient mix, this can severely impede the facility's revenue stream.
The remaining proposals are then reviewed with the healthcare facility's strategic goals in mind. Healthcare facilities have short-term and long-term strategies. Short-term strategic goals are actionable within 6 to 12 months. They typically focus on actions that help the facility now. An example of a short-term strategy is "decrease missing instruments in OR sets by 5% by the end of the year."
Long-term strategies tend to be larger business goals that take two to five years to complete. "Gain recognition as a national leading heart care center" is an example of a long-term goal. Typically, long-term goals have several planned stages. Each stage would have several short-term strategic goals that lead to achieving the long-term goal. Proposals that align with strategic goals are given a higher priority.
Writing for approval
If a proposal isn't approved, it may be because of how the material was presented rather than about the idea itself. Change proposals can be presented as PowerPoint presentations, as free-form written documents, or in standardized facility forms. Regardless of the format, proposals that provide relevant and succinct information, contain the three critical elements, and show alignment with the facility's strategic goals will have a higher probability of success.
Establish the problem
The proposal starts with the problem statement, which defines the current productivity, financial and/or patient issues that require improvement. The statement is factual and, whenever possible, supported by facility data. It should also indicate the strategic goals that this project will meet. The problem statement should reference guidelines, research information and potential financial impact if the proposal is not approved. All data, whether internal or external, should be provided in a list of references.
The problem statement sets the stage and focuses the reviewers on the specific challenge that the proposal will address. In the example shown, the reviewers immediately know that a documented challenge exists for duodenoscopes, a cross-functional team has determined that patients are at risk, and that the proposal will decrease the probability of a Carbapenem-resistant Enterobacteriaceae (CRE) outbreak. The next section of the proposal will describe solutions.
Problem statement example:
Several studies published in the past 12 months indicate that duodenoscopes present a challenge to cleaning and have been traced back to several outbreaks including Carbapenem-resistant Enterobacteriaceae (CRE) outbreaks. Most recently, a published study has indicated that double high-level disinfection is not effective at reducing the contamination rate of duodenoscopes.1 Additionally, the US Food and Drug Administration has issued a Safety Communication dated 08/29/2019 in which they recommend that facilities consider reprocessing with supplemental measures such as sterilization or use of a liquid chemical sterilant processing system consistent with the device's labeling.2

The offsite endoscopy center currently has five duodenoscopes that undergo cleaning followed by high-level disinfection using ortho-phthalaldehyde and no other supplemental treatment. A risk assessment team consisting of infection prevention, endoscopy, endoscopy reprocessing, risk control and sterile processing professionals determined that reprocessing errors similar to those identified in the published studies may happen at this facility, which could expose this facility to a CRE outbreak.

The potential impact from one outbreak with three affected patients includes additional treatment costs of $15,126; indemnity costs of $418,014 and reputational costs from resulting negative publicity. The proposed project will decrease the probability of a CRE outbreak, increase compliance to recommended practices for difficult-to-clean duodenoscopes and reduce the risk of reputational consequences. 



References
1. Bartles, L., Hove, K., Wang, O., Baxter, B. (2018) A randomized trial of single versus double high-level disinfection of duodenoscopes and linear echoendoscopes using standard automated reprocessing, Gastrointestinal Endoscopy.88(2):306-313.
2. United States Food and Drug Administration. (2019, August 29) The FDA is Recommending Transition to Duodenoscopes with Innovative Designs to Enhance Safety: FDA Safety Communication. Retrieved from https://www.fda.gov/medical-devices/safety-communications/fda-recommending-transition-duodenoscopes-innovative-designs-enhance-safety-fda-safety-communication. 
Set up the ultimate solution
Many proposal originators will jump right into the proposed solution. This can be a mistake because committee reviewers may have less direct experience with the issue. Presenting only the proposed solution creates reviewer tension because they must completely trust the originator. As a result, they often act conservatively by delaying the review or rejecting the proposal.
To give committee members confidence in the proposal, a few potential solutions should be offered that were considered but ultimately rejected. This demonstrates that the originator performed due diligence and that the decision to move forward with the proposed solution is sound. For each of the rejected solutions, the proposer should include the potential benefits of the solution, the cost of implementing that solution and the reason it was rejected.
Lay out the benefits and value
Once this groundwork is set, committee members are ready for the proposed solution. The benefits and cost to implement should be discussed for the proposed solution just as they are for the rejected solutions. Then, the value of the proposed solution can be laid out by discussing the return on investment (ROI). This should be followed by the implementation plan and the defined metrics that will measure the success of the change.
Benefits should be listed with corroborating evidence, which may include white papers, gray literature, Food and Drug Administration clearances, documented practices from other healthcare facilities, and technical product and industry literature. Every data source should be scientifically sound and relate to the facility or patient population affected by the solution.
The benefit assessment should tie back to every issue in the problem statement, linking benefit(s) to each specific issue identified in the document. If a solution is not available for an issue, either remove the issue from the problem statement or indicate that it will require further investigation.
List additional benefits, but only if they reflect known concerns of the healthcare facility or its strategic plan. Do not list benefits that are not valued by the committee members or the healthcare facility. To determine whether or not to add a benefit, ask these questions:
Does the change provide better compliance to recommended practices or other legal requirements not stated in the problem statement?
Are there other short-term strategic goals or performance standards that the solution will assist with?
Does the change give the healthcare facility a better competitive advantage?
Does the change improve or prevent tarnishing of the facility's image or reputation?
Does the change assist in achieving any of the long-term strategic initiatives?
Assess the costs
After the benefits have been discussed, the associated costs for the proposed change should be explained. Costs should be reported in two buckets: capital and operational. Capital costs include all items that are purchased once, plus any consumables or services used to implement the change. Items such as equipment, reusable medical devices, room modifications, contractor charges and required software fall into this category. Typically, capital costs are considered short-term expenses.
Operational costs include ongoing consumables and limited reuse items. Printer paper, water filters, sterilant, bandages and utilities all fall within the operational budget.
Consumables can fall under capital or operational costs. Capital consumables are necessary for installation but are not used again. This can include special tests used to qualify equipment. Consumables that fall under operational costs are periodically used after implementation and during normal use.
The final cost consideration is labor. Labor is typically associated with operational costs, though some process changes may require allocation of personnel during installation or implementation of a change. Labor is reported as full time employee (FTE) costs. FTE costs are more than the hourly wage payed to the employee. It includes all benefits and is often referred to as fully burdened. Typically, an average rate is used in the calculation based upon employee title. The finance team within the facility will be able to provide the value to use for FTE and guidance on its allocation within capital costs.
After all the costs have been identified, the ROI is calculated. ROI provides a means to compare the cost of the project against the potential savings and avoidance of cost. Savings is the difference between what was previously spent for a given period of time and what will be spent for the same amount of time after the change is made. Savings may seem like a straightforward calculation, but there are some nuances to it. The evaluation must be focused on the total before and after costs. Typically, the previous 12 months of spending are used to calculate the costs associated with the current practice. This is then multiplied for the desired time period for the ROI assessment. The operational costs reported on the ROI include consumables, service and labor. It does not include the cost of the equipment itself or any of the installation charges or other capital costs. The future spend is then calculated in the same manner, using the projected operational cost of the new process and not including installation costs.
When cost savings can also be realized by reducing unplanned costs derived from current HAI rates it should be included as cost savings. The amount saved is based on the estimated number of HAIs that will be avoided and the average cost to the facility of each HAI. Remember to only include the HAI costs that will not be reimbursed.
Showing the ROI
Once the total costs and total savings are known, the ROI can be calculated. ROI is typically calculated over a 5-year period, but some financial groups may request a 3- or 7-year analysis. Consult with the finance department to determine the calculation to apply. The basic formula is:
ROI =  


Total Savings over 5 years + Cost Avoidance over 5 years – Capital Cost x 100 
Implementation Cost
In some cases, the ROI will be positive. Positive numbers indicate that more money will be available for the hospital to use after the change is made. In other cases, the ROI may be negative. A negative ROI indicates that the facility will need to spend additional money each year following the change.
A negative ROI does not cause immediate rejection of a proposal. In some cases, the healthcare facility will have to spend more in order to resolve a problem or stay compliant with legal agencies. Knowing the amount of additional money required will allow healthcare facilities to plan and budget for the expense.
The ROI is only based on actual events and known spends. In some situations, an event has not yet happened but could have a significant impact if it did. In the example previously discussed, the healthcare facility has not experienced a CRE outbreak from its offsite endoscopy facility. If it were to happen, the increased cost to the facility would be substantial. In this situation, the cost avoidance would be described in the benefits and not included in the ROI since no dollars have been spent on this type of event in the past.
The proposal should close with a call to action. The call to action provides a timeline with all important implementation milestones and timeframes to complete. It should reiterate the most critical benefits and include the expected timeframe in which those benefits will be realized.
Help move your hospital forward
Gaining approval for a change in practice can be challenging. For your proposal to succeed, it must address a recognized issue, synchronize with the facility's goals, and be thoroughly and thoughtfully presented. Knowing what to write and how to present the material can improve your chances of gaining approval, which ultimately can contribute to optimal healthcare delivery at your facility.
References:
1.  Bailet, M. and Dyer, M. (2004) Beyond Bankable Dollars: Establishing a Business Case for Improving Health Care. The Commonwealth Fund. 
2.  Melnyk, B. Fineout-Overholt, E. and Stillwell, S. (2010) EVIDENCED-BASED PRACTICE Step by Step; the Seven Steps of Evidence-Based Practice. American Journal of Nursing. 110:1, 51-53.
4.  Scott II, R. (2009)." The Direct Medical Costs of Healthcare-Associated Infections in U.S. Hospitals and the Benefits of Prevention". Centers for Disease Control and Prevention.
5.  Tucker, Susan (2014) Guest Editorial Determining the Return on Investment for Evidence-Based Practice an Essential Skill for All Clinicians. Worldviews in Evidence-Based Nursing 11:5, 271-273.