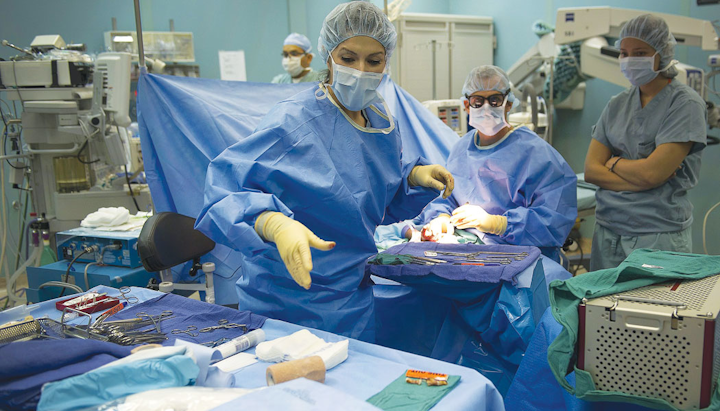 Operating Room
---
One of the greatest ironies of the operating room (OR) — where patients go for life-saving procedures — is its potential to also be one of the most dangerous, sometimes deadliest places inside a healthcare facility. Hazards of all types are waiting to happen to both patients and staff if proper safeguards aren't always in place. For example, administering the wrong medication or dose, leaving foreign objects inside of patients, using faulty equipment, dirty equipment, missed recalls, needlestick and scalpel injuries, wrong site/patient/procedure errors, wearing the wrong PPE or not enough, accidental fires, surgical smokes inhalation … and that's just the short list of what can go wrong.
Those and other complications are discussed continuously. Research is performed, articles and books are written, guidelines get updated, best practices are adopted, new technologies are developed, and clinicians try to do better.
What follows is a sampling of various solutions healthcare facilities can use to help prevent a variety of safety breaches. Healthcare Purchasing News asked these vendors two questions: How does your solution make a direct impact on improving OR safety and why is it a good investment for supply chain to consider?
First step: Follow the IFU
Following a manufacturer's instructions for use (IFU) is a fundamental safety step and most OR and sterile processing technicians are dedicated to the process. However, significant obstacles can get in the way. IFUs can be difficult to understand. Lack of time needed to follow every step in the IFU is another challenge. Poor collaboration or understanding between the OR and sterile processing department regarding who is responsible for what can also throw a wrench into the process. Sometimes the IFU is missing entirely, especially when using loaners.
oneSOURCE offers healthcare facilities current IFU documents via subscription to a comprehensive database intended to simplify the IFU process, foster compliance, and maintain accreditation effortlessly. "The need for our databases is driven by CMS regulations mandating that healthcare SPD, OR, HTM and Infection Prevention departments follow the IFU for patient safety. We provide the necessary tools professionals and facilities need to avoid typical failures such as improper cleaning, wrapping or loading in the sterilizer; incorrect reassembly of the device; and use of an incorrect sterilization process," said Heather Thomas, Chief Marketing Officer, Vice President of Sales and Marketing at oneSOURCE. "Improperly cleaned instruments and/or medical devices have been linked to adverse patient outcomes as well as death. When facilities have access to a robust tool like oneSOURCE it arms them with the resources required to keep patients safe 24/7 and can assist them in avoiding fees for readmission due to HAI lawsuits associated with fatal results in addition to expensive citations from accrediting bodies. We are launching databases for Facilities Maintenance and Tissue & Implants later this year to meet the patient safety compliance needs for OR and Facilities Maintenance departments."
UDI & OR safety  
UDI adoption remains challenging for most hospitals. In recent surveys by Healthcare Purchasing News, among the 43 percent of organizations stating they have not adopted the use of UDI in their supply chain data, respondents often cited there is "a lot of work involved and a lack of time to dedicate to the process." While the importance is recognized, capturing UDI data has remained a significant hurdle for provider organizations. 
SteriTrack's Pat Cairn, COO and Michael Schiller, CMRP, VP, Healthcare Engagement, explained how SteriTrack UDI scanning solution delivers on patient safety, recall management, and regulatory compliance.
Everyone knows a recalled surgical instrument poses an immediate danger and should be removed from inventory but everyone knows also that it doesn't always happen that way — not without a system in place that can assist with the myriad challenges of staying on top of the many surgical products that could lead to injury and death.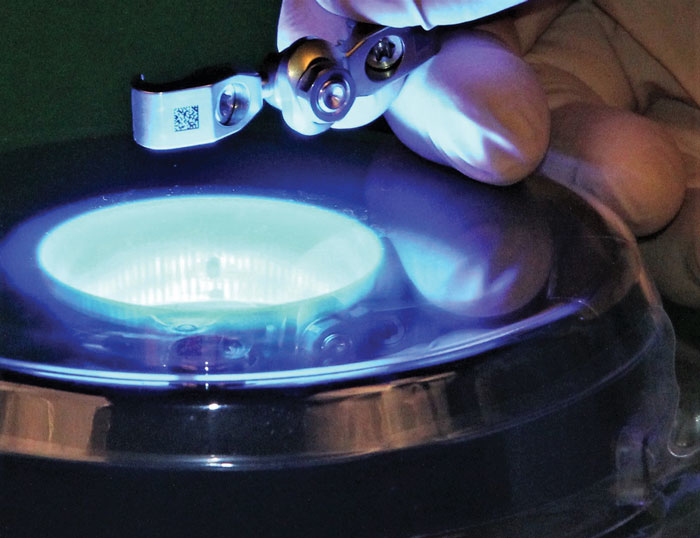 SteriTrack's Tractus"SteriTrack has brought UDI scanning to the point of implantation, inside the sterile field, seamlessly integrating it within the workflow between the scrub tech and the surgeon. The Tractus platform leverages UDI data from regulatory databases including the GUDID and FDA Medical Recall Database to ensure device safety prior to use or implantation," explained Cairn. "By allowing devices to be scanned at the point of use, the OR team is notified if the product is recalled or expired immediately prior to implantation and not post-procedure. Patient safety becomes real-time, helping mitigate risk to the healthcare organization."
"The Tractus platform allows a clinician to specify anatomic regions involved in a procedure and the ability to document the exact location of each implant. Once scanned, UDI data resides within the patient's clinical record where the patient can be correctly notified in the future if a recall occurs," Schiller added. "This capability provides the most accurate and effective UDI documentation process and, is critical in eliminating potential data entry errors that could occur when manually entering the UDI information. Almost as important as notifying a patient of a recall is avoiding an inaccurate recall notification, as a result of UDI data being entered incorrectly. Tractus scanning technology eliminates risks of documentation errors resulting from manual data entry, which are reported at an average error rate of 30 percent.
"Data capture of the UDI still hasn't been widely adopted by hospitals. It would offer many patient safety advantages such as in the event of product recall and enhance the acuracy of patient records regarding the products used on them," continued Schiller.
"While minimal regulation exists today to propel providers to capture UDI data, there is tremendous benefit recognized in recording the UDI data for implants and supplies used during the course of a procedure, building a comprehensive patient clinical record within the EHR and moving healthcare organizations closer toward understanding the total cost of care, improving patient care and patient outcomes."
Sharps
Sharps safety has been a top priority for decades and it's paid off in many ways with better practices and technologies to support it. But it remains slow-going in some areas, and according to the Centers for Disease Control, approximately 385,000 needlesticks and other sharps-related injuries happen to hospital-based healthcare personnel each year.
"Since the Needlestick Safety and Prevention Act was signed into law in November 2006, sharps injuries in nonsurgical settings dropped by almost a third, while injuries increased by 6.5 percent in surgical settings," said Adeline Yi, Senior Manager, New Business Development, Medipurpose. "ORs face even greater risks than other departments, with the potential for scalpels to cause deeper and more serious wounds. Yet nationwide, the conversion to safety scalpels has been very slow as surgeons and surgical techs are unhappy with the limited safety scalpel options currently out in the market. During the development of our Anzen Safety Scalpel, we worked closely with surgeons and surgical techs to design a product to meet those needs: Reusable, metal-handle that provides surgeons with the weight, balance, and feel they are used to in a traditional scalpel; pushing on the slider moves the blade in a out of the cartridge (intuitive to use, like a box cutter); safety catch that prevents the blade from being extended when the cartridge is not mounted on the handle (prevents accidental sharps injuries during loading of the blade); and cartridge lock feature that prevents cartridge from being removed when blade is not fully retracted (prevents accidental sharps injuries during unloading of the blade).

Anzen Safety Scalpel from Medipurpose"There are an estimated 1,000 sharps injuries occurring in U.S. hospitals every day," Yi continued. "This translates to over $1 billion in unnecessary healthcare costs. A report found that operating room scalpel injuries indirectly increase the cost of purchased conventional blades by at least $2 per blade. Safety scalpel cartridges like the Anzen Safety Scalpel are typically priced at $1.00/cartridge. This translates to $1 saved for every cartridge used over conventional blades (taking into account costs due to surgical sharps injuries). There are about 75 million scalpel blades used every year, which translates to $75 million in savings by switching to a safety scalpel."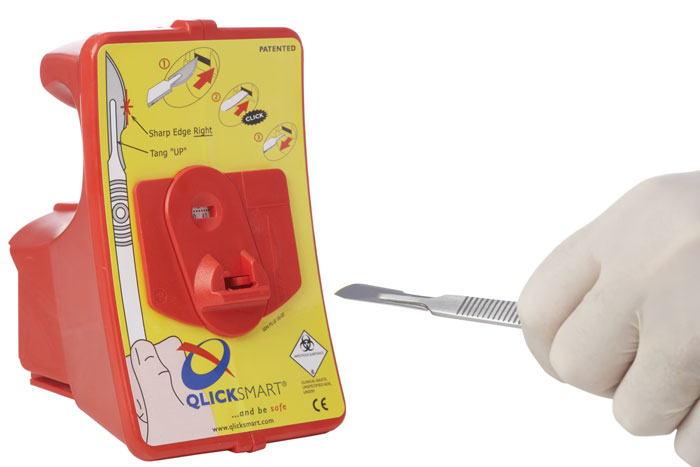 Qlicksmart Blade Removal System from
Myco MedicalSam Kumar, President & CEO, Myco Medical, says he sees the same thing. "Scalpel blade injuries are in the top five common types of sharps injuries and second only to needle-sticks. An estimated 50 percent of OR Sharps injuries are preventable, however, the majority of the safety devices available are not adopted in the OR as they often require a change in surgical technique," Kumar said. "The Qlicksmart Blade Removal Portfolio is the only single-handed blade removal system. The Qlicksmart Blade Removal System allows the Surgeon to continue using their preferred reusable scalpel blade handles. Hospital Infections cited a staggering 662 injuries for every 100,000 blades used (includes OR, ER, Endoscopy, etc).  The cost of even an uncomplicated injury can range from $1,500 to $5,000. A severe injury requiring microsurgery can cost upwards of $100,000, up to three months of rehabilitation and loss of salary. Not to mention the risk of infection."
Added protection
Adding to the sharps safety effort are surgical glove technologies that not only protect transmission of pathogens from hands to patient but will protect surgeons from injuries.
"Surgical glove protection is a primary factor that works to prevent sharps injuries, minimize risks associated with latex allergies and surgical site infections (SSIs)," said Judith Seltzer MS BSN RN CNOR, Clinical Director, National Accounts, U.S. Surgical Division, Mölnlycke Health Care.  "Double-gloving is proven to reduce risks of sharps injuries and exposure to bloodborne infections by 71 percent. Data research reveals that on average, only 10 percent of glove punctures are noticed during surgery. At least 60 different bloodborne pathogens can be transmitted to healthcare workers due to accidental exposures with HIV, Hep B and Hep C accounting for most of the risk.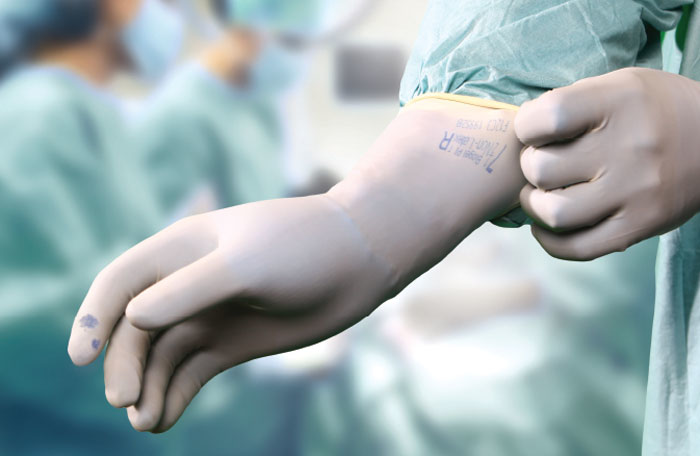 Biogel PI Micro Indicator glove from Mölnlycke"Biogels Puncture Indication System, which includes as its most recent addition with enhanced tactile sensitivity, the Biogel PI Micro Indicator glove, can increase breach detection from 10 percent to 97 percent," Seltzer continued. "These gloves are uniquely engineered to work together with Biogel overgloves. The blue inner glove color was selected based on color physics to maximize visibility. It is designed to make the spot following a puncture visible as fast as possible and for the indication size to provide a large, visual alert from a distance in the room. Glove perforations can increase the risk of SSIs to 6.9 percent. With SSIs costing upwards of $25K, that can be a substantial loss to the patient and hospital. Data research reveals in an average facility performing 10,000 surgical procedures, an average of 442 SSIs could result from various factors which includes surgical gloves.  With Biogel gloves potential savings for a 10,000 surgical procedure hospital could be reduced by $56 per surgery or approximately $560,000."
Smoke & fire
The Association of periOperative Registered Nurses (AORN) has done much work in recent years to raise awareness of the health and safety problems associated with surgical smoke inhalation. And some states are now passing laws requiring hospitals and surgical centers to implement strategies for reducing exposure, which makes sense. The National Institute for Occupational Safety (NIOSH) says surgical smoke contains toxic gases, vapors and particulates, viable and non-viable cellular material, viruses, and bacteria — all of which can cause a host of health problems, including asthma.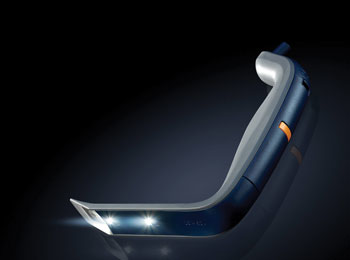 obp's ONETRAC LX"OSHA estimates that 500,000 healthcare workers are exposed to surgical smoke each year which according to AORN is the equivalent to the OR team smoking 27 to 30 unfiltered cigarettes per day," said Jason Swift, CEO, obp.  "obp's ONETRAC LX addresses this major health risk by featuring a patent pending integrated dual smoke evacuation system coupled with onboard cordless multi-LED lighting enabling users to effectively remove smoke and maintain clear visualization throughout surgical procedures. ONETRAC LX virtually eliminates the potential risk of patient burns and fires caused by thermal hazards associated with typical fiber optic retractors. obp's ONETRAC LX features an all-in-one design in which the power source and illumination system is single-use, cordless and built into each unit eliminating the need for all additional accessories, components, and reprocessing associated with traditional systems.
"This all-in-one design enables healthcare facilities to stock all needed sizes and styles in each room without having to make any investment in depreciable capital equipment that often costs many thousands of dollars," Swift continued. "Additionally, healthcare facilities continue to transition to fully disposable systems to reduce cross contamination risks and mitigate the severe financial consequences associated with treating HAI's. ONETRAC LX is the logical next step in this effort."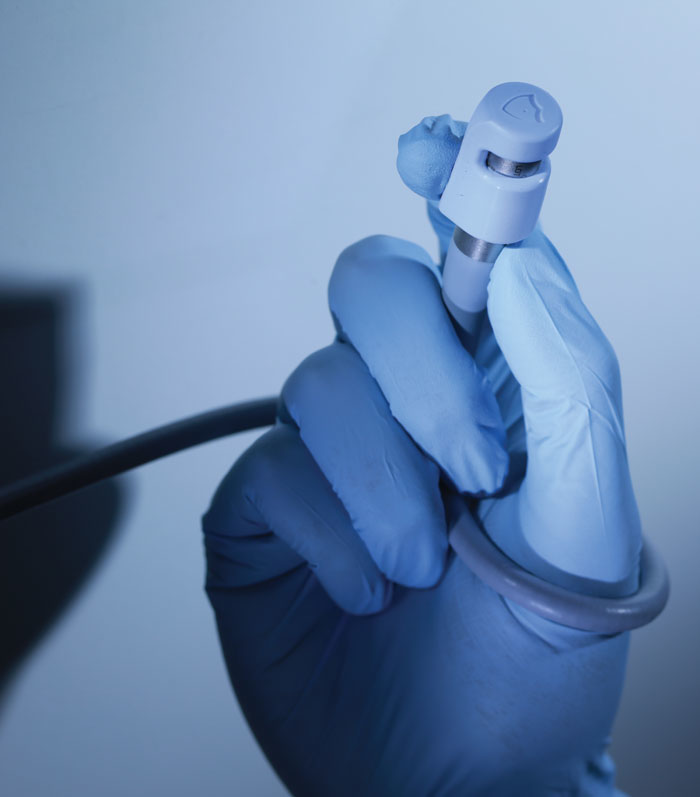 Jackson Medical's GloShieldAccidental fires during laser procedures are another hazard for which solutions are available. 
"The GloShield safety cap provides a protective covering for the end of the fiber optic light cable that can reach over 550 degrees Fahrenheit," explained James K. Rains, PE, CEO, Jackson Medical. "GloShield is designed to prevent Never Events such as OR fires from occurring. This award-winning product is reliable and intuitive, making the hospital safer for patients and staff. GloShield is a simple way to mitigate the risk of 'never events' from occurring in the operating room. Of over one hundred first-time users, 94 percent thought that GloShield offers reliable protection and would reduce the risk of fires."
Keeping tools safe & secure
Workflow interruptions cause stress and stress can lead to mistakes. For example, dropping an instrument on the floor — happens all the time — which leaves surgical teams scrambling for a replacement. Passing needles, electrocautery devices and other potentially hazardous equipment can also lead to cuts, burns and more. Alas, there is a solution.
"Based on firsthand experience, DropStop was designed by the OR Innovations team to solve a common problem facing surgical teams world-wide; costly surgical tools falling off the surgical field, leaving the circulator scurrying to get a replacement, if one is available!" said Alex Duy Bui, Chief Technical Officer, OR Innovations. "This event repeats itself daily in most surgical suites, resulting in hundreds of thousands of dollars annually of avoidable costs and unanticipated time delays. While the initial DropStop design goal was to prevent items from falling off the sterile field, DropStop also addresses other operating room challenges such as; securing the electrocautery holster in a safe, optimized position to minimize risk of patient burns, as well as positioning a suture pack on the user's sleeve to eliminate risk of needle-sticks which can occur during passing of loaded needle drivers.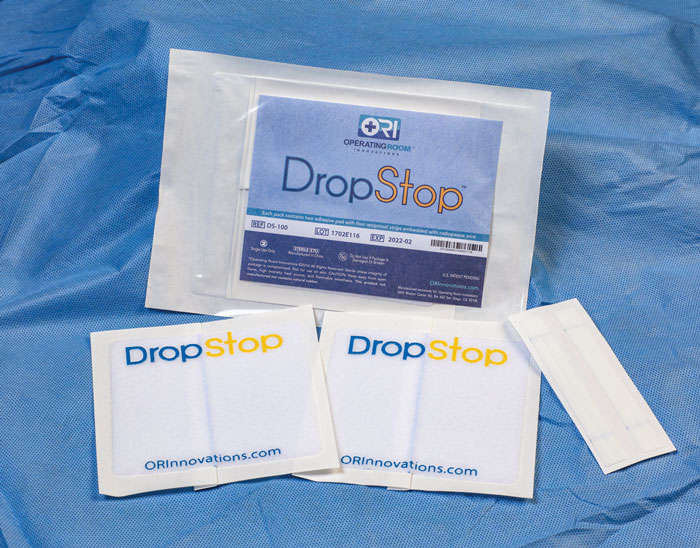 DropStop by OR Innovations"Most notably, DropStop promotes hands-free transfer of all surgical tools to increase OR safety; reducing incident reporting and adverse outcomes for employees and patients. It optimizes workflow by safely and effectively securing sterile tools, cautery, and instruments close at hand, where and when the surgeon needs them, improving surgical on-time rates and improved resource utilization. DropStop also prevents avoidable costs by preventing delays associated with dropped or contaminated surgical tools, reducing unnecessary distractions, infection rates, and negative patient outcomes. DropStop allows the end-user to customize and maximize the benefits of use based on their needs. It can be placed anywhere on the surgical field, drape or surgical gown."
Retained surgical instruments
The horror of finding out that a foreign object was left inside of a surgical patient has lasting, far-reaching consequences for everyone involved. The patient, the surgical team, the facility suffers as a result of this "never event" which unfortunately is still too common. Implementing the latest technology is critical to reversing the trend.
"Currently in the United States the No. 1 reported surgical never event to the Joint Commission is retained surgical items (RSIs), of which the No. 1 contributor of RSIs is retained surgical sponges (RSSs) accounting for 69 percent of all RSIs," said Jason Davies, Senior Brand Manager, Stryker. "[And] 16.3 percent of patients that have a sponge left in them suffer a permanent injury, and it is a mortal event for 4.5 percent of patients. The average malpractice impact to a hospital on a national average is nearly $600,000 per occurrence, and the rate of occurrence of RSSs is between 1:5,000 to 1:7,000 surgeries according to studies. The surgical team currently has a deficit of technology by only using a whiteboard & marker to keep counts on their sponges. It's estimated that RSSs are left in patients 4,000 times a year in the U.S., or roughly 11 times a day. RSSs are a completely preventable surgical never event that add roughly $2.4B to the U.S. healthcare system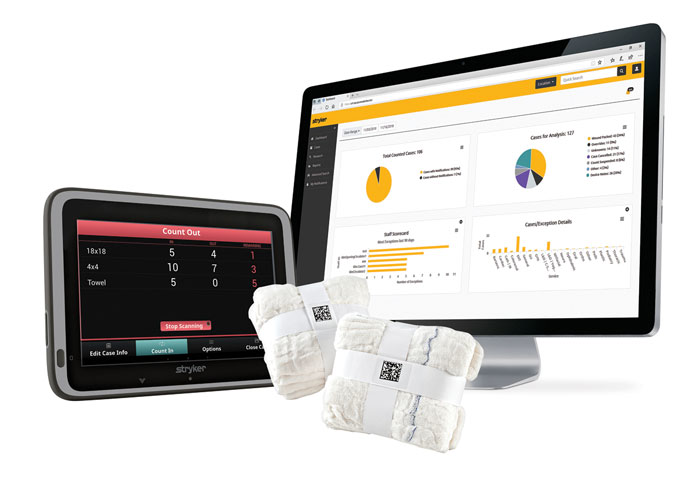 The SurgiCount Safety-Sponge System
from STRYKER"The SurgiCount Safety-Sponge System shows the surgical team in real-time when their manual count is right or when it's wrong," Davies continued. "It augments the nurses manual count by simply tracking the sponges IN and tracking them back OUT via a barcode that they scan underneath the SurgiCount Tablet that acts as a debit/credit tool. At the end of the case, the surgical team clicks the submit button on the tablet and all the sponge data (sponges used, when scanned in, when scanned out, etc.) is recorded in a cloud database so the institution has an evidence-based outcome. The surgical team can now have the peace of mind that no sponges are left inside patients. On average, SurgiCount adds only $8 to $10 per surgical procedure to use our technology and sponges, whereas without using our technology it adds $94.50 to each surgical procedure by not having technology in place due to high settlements paid out."
Opioid disposal
By now everyone is aware of the opioid crisis taking place in the U.S. and elsewhere. Concerted efforts are underway to help defeat the problem — patient advocacy groups, government, professional agencies, healthcare providers, insurers, pharmacist and medical supply manufacturers are all taking steps to help. Schreiner MediPharm's contribution is providing a safer way to dispose of narcotic pain patches.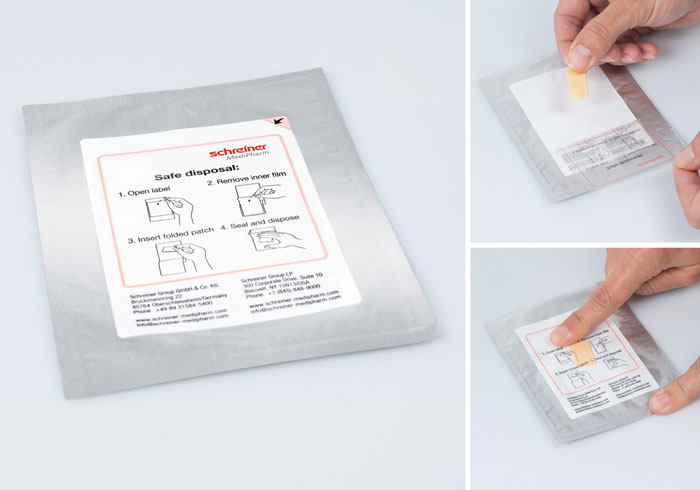 Schreiner MediPharm's Patch-Safe"When properly used, transdermal patches with high concentrations of active ingredients are an effective and safe means of drug delivery used in chronic pain management or hormone therapy; however, when patches that contain opioids come into contact with the skin of non-patients, this may lead to serious, even fatal health problems—especially for children," said Gene Dul, President, Schreiner MediPharm U.S. "Schreiner MediPharm's Patch-Safe is a multilayer specialty label applied to sachets that reliably seals a used transdermal patch between two layers. In the case of patches containing high concentrations of opioids, an accidental transfer of active ingredients via the skin — and the resulting health risks as well as potential for abuse — can thereby be prevented. Pain patches pose a high risk of abuse by those suffering from drug addiction and, in some cases, by patients with chronic pain," Dul continued. "This is because even used patches still contain large amounts of active ingredients.
The Patch-Safe solution allows a broad use in different hospital settings, since it helps to safely and efficiently dispose of used patches, which is especially important in the hectic environment healthcare professionals have to cope with. Due to its special construction, it secures patches and critical substances reliably. In addition, it is easy and intuitive, which facilitates work in hospital and healthcare settings and helps to optimize processes." 
Editor's Note: There's another safety issue that doesn't get nearly the amount of attention or resolve, yet is as unsafe and scary as any other OR hazard – nurses and surgeons with substance use disorders, including those who engage in drug diversion (stealing controlled substances reserved for patients). Read more here.