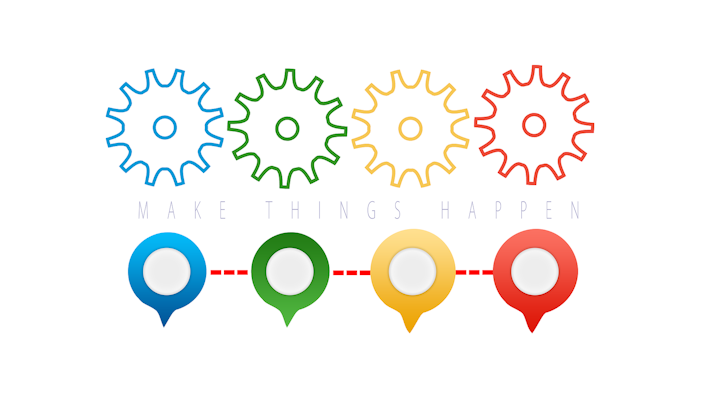 Illustration by Gerd Altmann
In today's healthcare business, electronic record keeping is the norm. Patient records, appointment bookings, personnel records, procurement and billing are all submitted, fulfilled, tracked and retained electronically.
But, that's often not the case for facilities management. Many maintenance departments still physically print work orders, log activities by hand on clipboards, and keep their records in file cabinets full of three-ring binders. Paper-based management may be perceived as fast and easy, it aligns with legacy compliance requirements and processes. In other cases, staff may feel threatened by or burdened by technology, or the potential cost savings of investing in automation just hasn't been considered.
Why change is necessary 
Progressive purchasing managers and their partners running facilities are challenging this status quo, creating compelling bottom-line value by considering and deploying electronic workflow and record keeping. For those stuck on the cost-versus-return issue, there are four areas where facilities management automation can be counted on to deliver measurable benefits.
Efficiency gains: Printing and managing facilities via paper takes time and effort, and therefore has an identifiable handling cost. In legacy processes, each work order is touched at least four times before any work is done: Once it is received by office staff, when it's printed, when it's routed to a supervisor for assignment, and then assigned to a maintenance employee for completion. Wait, there's more – each paperwork order is then touched at least three more times! The maintenance worker notes their activities, then it's handed to the supervisor and finally the office staff processes the record.
With each step, efficiency goes down, and the time available to service facilities goes down. Our research has shown that the average minimum response time within a typical paper-based facilities system is 70 minutes from work request to commencement of maintenance work. The information lags even further because completed jobs aren't logged until the end of the workday or the next morning. The sheer number of steps involved in deploying and documenting facilities work is expensive and inefficient.
When healthcare companies automate and use a Computerized Maintenance Management System (CMMS), processing is greatly accelerated. With a CMMS, that 70-minute receive-to-start process can be reduced to eight minutes. If organizations with a staff of eight can save 62 minutes per maintenance employee each day, that amounts to freeing up nearly one entire full-time employee.
Accuracy gains: One staff member's personalized shorthand description of an issue translated into a paperwork order, can be misinterpreted by a maintenance employee, costing lost time in rework. When assignments are incorrect, the maintenance employee is burdened with tracking down the original requestor, often with the added step of needing to get contact information from the office staff. Even worse, when the maintenance employee travels to the wrong location or isn't equipped for the true issue, they need multiple trips to their shop and parts warehouse. If it takes 15 minutes to travel to the job site across campus, and the maintenance employee needs an additional round trip, a pointless 30 minutes has been added to their job cycle. If eight maintenance employees are each assigned two inaccurate jobs per week, that equates to a full-time person losing an entire day per week due to unnecessary travel time.
Within automated facilities management systems, requests are entered directly by the originator, ensuring greater accuracy. There is no shorthand to interpret and there is no information lost in handoffs between office staff, supervisors, and maintenance employees. Leading CMMSs require complete contact and location information from service requestors, ensuring that any facilities staffer can reach out to the right person if needed. This reduces the number of trips to job sites and helps maintenance employees show up with the materials needed for the assignment. If duplicated travel is lowered by 50 percent, you have saved four hours of productive time a week.
Accountability gains: Best-in-class organizations have a consistent process of accountability for every work request, repair job, and preventive maintenance action that occurs within their Environment of Care. A healthcare facilities department cannot properly maintain its utility systems, facilities equipment, structures, grounds, and spaces without knowing who is doing what, who has done what, and what work is still outstanding.
Work comes in, is triaged (reviewed for completeness, complexity, and skill), assigned to one or more maintenance employees (where it becomes part of their backlog), and is completed by those employees. These processes also apply to work being performed by a contractor or vendor. Without accountability, an organization cannot distinctly identify when a job has become the responsibility of an individual performing the work, let alone who was responsible. This can lead to delayed work, missed deadlines, and increased safety risk exposure for patients, visitors, and staff.
Digital systems automatically record accountability, helping with identifying and reaching the right person when a question arises about a job, managing employee workload, optimizing backlogs of work, analyzing productivity, and enabling employee self-sufficiency.
Consumption gains: Most healthcare organizations are focused on finding ways to decrease costs and increase efficiency while protecting quality care. Systems can develop annual analytics by reviewing 365 days' worth of paper but it is far more efficient and accurate to review trends and totals throughout the entire year. Knowing the average number of work requests per month, per day or even instantly via an electronic dashboard allows organizations to properly staff their facilities department—reducing stress and increasing customer service during those periods. Additionally, understanding how many open work tickets there are, either by team or by technician, can increase overall efficiency.
Relative to material management there are several areas a digital system can reduce costs and improve performance. A main area for improvement is the ability to forecast preventive maintenance (PM) materials requirements, which can enable a facilities department to dramatically reduce the costs of carrying inventories of PM materials and increase their use of just-in-time parts ordering.
Digital systems can also reduce shipping costs by limiting the need for overnight or expedited shipping via inventory sharing. Each department can have visibility to whether other healthcare facilities management departments in their organization have the materials they need, changing from an overnight shipping need to regular shipping (for replacement). Additionally, electronic records allow you to see which vendors consistently ship fastest and provide the ability to predict when maintenance will be needed by interpreting trends and ordering materials preemptively. They can also provide insight to recurring material\part failures for predictive analytics and pre-emptive material ordering.
Digital records allow users to benchmark their data at many levels, including inventorying equipment types, locations and ages; analyzing personnel productivity; both among peers and against industry averages; early identification of troublesome vendors; and comparing similar vendors to identify the best performers
Knowing average turn-around time by specific job types allows departments to improve scheduling of preventive repair activities instead of always being reactive fire-fighters. Accessing digital records of past maintenance activities and combining that data with a forecast of future scheduled activities also allows provides definitive data on budget forecasts and manpower needs, as often as the biggest consumption gains surround budgets and staffing needs.
Isn't it time to automate your facilities management department?