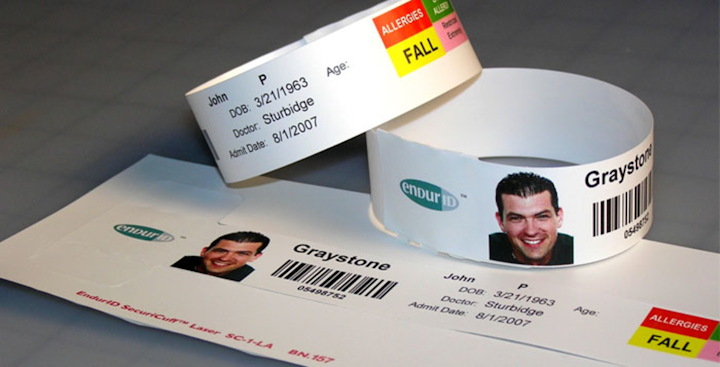 Healthcare changed dramatically in October 2008, when the Centers for Medicare & Medicaid Services (CMS) stopped reimbursing providers for many expenses related to certain preventable medical events, also referred to as Never Events. Private insurers have followed suit.
Never Events are exactly what the name implies: serious, preventable medical mistakes that should NEVER happen. According to the Agency for Healthcare Research and Quality,1Never Events include, but are not limited to:
unintended retention of a foreign object in a patient after surgery or other procedure
patient death or serious injury associated with a medication error
surgery or other invasive procedure performed on the wrong body part or on the wrong patient
patient or staff death or serious injury associated with a burn incurred from any source in the course of a patient-care process in a healthcare setting
catheter-associated urinary tract infection
vascular catheter-associated infection
certain surgical-site infections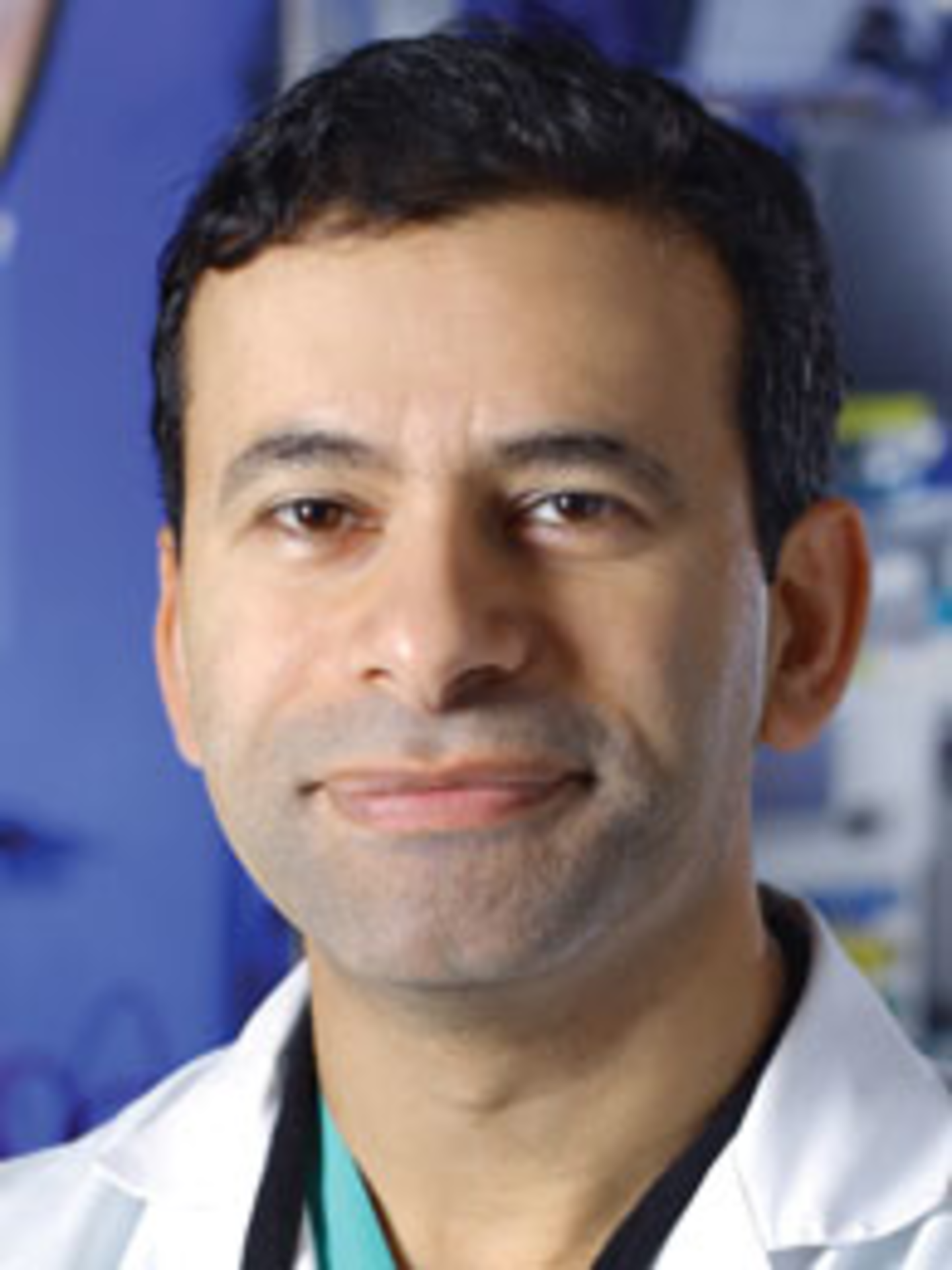 Furthermore, new research published last month, led by Martin Makery, Professor of Surgery and Health Policy and Management at Johns Hopkins University, shows 9.5 percent of all deaths each year in the U.S. are caused by medical error — the third leading cause of death behind heart disease and cancer, not respiratory disease as current health statistics indicate.
In an open letter to Dr. Thomas Frieden, Director of the Centers for Disease Control and Prevention (CDC), Makery and his team urged for a change in the way the CDC collects annual vital health statistics, which currently tallies causes of death based only on disease, morbid conditions, and injuries.
"Drawing on reliable data, deaths from care, rather than from the disease that brought the person into care, should be addressed with the same resources and vigor as other scientific endeavors," the letter said. "We need more honest conversations about the problem. It would also help the many clinicians who cope with the mental trauma, and even post traumatic stress disorder, after being involved in a patient death due to error."
Never Events have a rippling effect
Nicole Wilson, RN, MSN, CPHIMS, Clinical Marketing Manager, Medication Management Solutions, BD, pointed out the domino effect that nonreimbursement by CMS has when Never Events happen. "The intent is to improve quality and reduce healthcare costs by forcing hospitals to improve practices," said Wilson. "This has had a positive impact, as hospitals are paying closer attention to quality by making improvements through education, implementation of technology, and changes to policies and procedures."
Latisha Richardson, MSN, BSN, RN, Clinical Consultant, Ansell, discussed other impacts that Never Events are having on medical facilities and patients. "In essence, hospitals are going to have to absorb these additional costs, affecting the overall operating budget of the facility and the available resources to maintain quality patient care," said Richardson. "While Never Events are rare, when they do occur, they are often devastating in both clinical and financial terms. From 2004 to 2015, The Joint Commission reported a total of 1,196 wrong-patient, wrong-site, wrong-procedure incidents and 462 medication-error sentinel events.1 Over the past 12 years, 71 percent of Never Events reported to The Joint Commission were fatal.2
"Patients and their families must cope with physical and/or psychological injury, in addition to potential changes to personal financial standing," Richardson added. "Public reporting of these events has increased hospital accountability and intensified the pressure to eliminate these occurrences entirely."
Joe Guido, Vice President, Commercial Marketing and Business Development, Invuity Inc., suggested that public reporting of Never Events places additional pressure on medical facilities to raise the bar on quality care for their patients. Guido referred to a letter written by CMS and the National Quality Forum (NQF) and addressed to state Medicaid directors in 2008. According to the letter, which places the responsibility for Never Events squarely on the shoulders of medical facilities, Never Events are "errors in medical care that are of concern to both the public and health care professionals and providers, clearly identifiable and measurable (and thus feasible to include in a reporting system), and of a nature such that the risk of occurrence is significantly influenced by the policies and procedures of the health care organization."
Tools for preventing Never Events
The list of Never Events is long and includes errors so awful that one wonders how they could even happen.1 The truth is they can happen too easily, which maybe shouldn't be so surprising after all when patients are receiving care from multiple healthcare workers (HCWs) who are often extremely busy and stressed on several fronts. Sometimes miscommunication is the problem. Distraction can be a contributor. A slip of the finger at the wrong time can result in catastrophe.
Following best practices and having the right tools for the right time and situation can help prevent these and other mistakes. "It is critical for perioperative teams and healthcare facilities to remain aware of the tools and resources available today to help prevent the risk of Never Events," urged Richardson.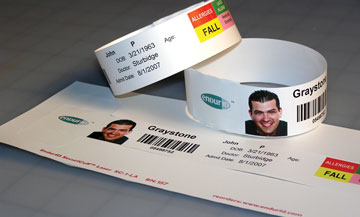 Getting the basics correct is critical, and patient admissions is the place to start. One of the first things a patient experiences upon admission is having an identification band applied to his or her wrist. "Wristbands are the first barrier to the occurrence of many Never Events," said Robert Chadwick, President, Endur ID Inc., a company that takes patient identification wristbands to another level. "When you review the list of the NQF's Never Events, you begin to realize that many of these events can be triggered by the simple misidentification of a patient. Healthcare has come to rely on the seemingly simple patient identification wristband for this function."
Chadwick explained that, whereas most wristbands display basic identifying factors, Endur ID saw the need for more security. "To the standard bands we added barcodes, for medication management; photos, which assist in making sure the correct band is affixed to the correct patient; color-coded alerts for allergies; [risk of ] falling, and so on. Not only is the staff alerted, but those with these risks can be identified easily without wearing many extra wristbands.
"In addition to providing all the needed information, we developed tough and durable products," continued Chadwick. "If a band was not waterproof or if it fell off the patient, their identity could not be verified. If a bar code did not scan, then barcode-based medication management would fail. With the average cost of a wristband being under 40 cents, the justification for a high-quality wristband is simple when compared with the suffering and cost associated with a Never Event."
To illustrate the effect of Endur ID's product on reduction of medication-related Never Events, Chadwick said, "You can look at the rates of medication errors before and after the installation of a barcode medication-administration program. In the few weeks after it is installed, medication-error reports spike dramatically." Chadwick explained that the reason they spike is because so many small, harmless errors went unnoticed prior to switching products. "Nothing happened, so nothing was reported. The medication-management system prevents the error rather than reacts to it; so, staff now are aware of their small mistakes. The medication errors return to normal and then decrease."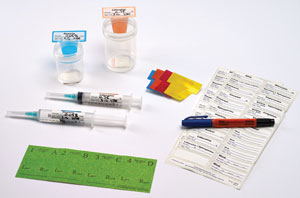 Ansell's SANDEL line also addresses the potential for medication errors. "The SANDEL Correct Medication Labeling System helps prevent the risk of costly medication labeling errors and aids in compliance with The Joint Commission's National Patient Safety Goals,"3 said Richardson. "A variety of medication labeling kits are available and contain everything needed to label medication on the sterile field. Kits include items such as preprinted labels, colored ID flags with matching syringe strips, a specimen zone, permanent markers, and skin markers."
To prevent surgery-related Never Events, Richardson said "In compliance with The Joint Commission's Universal Protocol for preventing wrong-site surgery, SANDEL TIME OUT Skin Markers are used to mark the correct surgical site on a patient's skin prior to a procedure. TIME OUT Markers are available in a 'no-roll' triangular barrel with single- and dual-tip options. The SANDEL 4-in-1 Marker features permanent ink on one side for labeling medications and a skin marker with a chiseled tip on the other side for marking patients' skin. All skin markers are bright orange and display TIME OUT on the cap.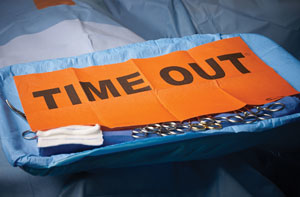 "SANDEL TIME OUT Beacons serve as a prominent reminder for the surgical team to comply with The Joint Commission's Universal Protocol. It can be placed over the surgical site, mayo stand, or back table," explained Richardson. "TIME OUT Beacons are bright orange and highly recognizable. The Count In Progress Beacon is designed to help reduce the risk of retained surgical items in the OR by eliminating distractions during the counting process. It is bright orange and highly recognizable, helping notify the surgical team that a count is about to begin."
Richardson also addressed cost. "With over 4,000 surgical Never Event malpractice claims occurring annually,4 facilities must weigh the financial impact of a single Never Event versus the minimal cost of a preventative product. [Reducing] Never Events should be one of the primary goals for all members of the healthcare team, not just cost savings."
Wilson explained how BD addresses prevention of medication errors related to infusion pumps, noting that all it takes is one wrong keystroke when programming an infusion pump to cause a Never Event. "Companies like BD are trying to help through innovative products such as Alaris EMR interoperability," said Wilson. "The wireless two-way connectivity between the infusion pump and the electronic medical record (EMR) pre-populates the pump with the ordered parameters directly from the EMR, eliminating manual key presses and inherent errors. The connection between Alaris and the EMR is bi-directional; therefore, time-stamped infusion data is sent from the pump back to the EMR. This includes accurate start and stop times, which are necessary for complete outpatient reimbursement of infusions."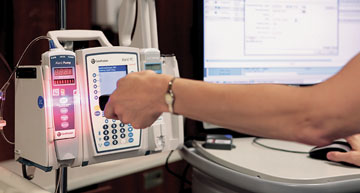 Peace of mind in preventing medical error can sometimes come with a price, but Wilson advised, "The cost to purchase and implement a solution like Alaris EMR interoperability can be offset by the financial benefit it provides. In 2006, the cost to treat a medication error was $8,750.5 By preventing medication errors, the hospital can avoid these associated costs. These technologies can also drive increased revenue."
Wilson highlighted how one 286-bed level-II trauma center in Montana implemented Alaris EMR interoperability to streamline its processes and save money. "The hospital reduced the number of key strokes needed to program each infusion from 15 to two (86 percent), greatly decreasing the opportunities for error," said Wilson. "Self-reported safety events related to all infusion-pump programming were reduced from three to one. In the first month, the hospital decreased lost charges for infusions from $980,000 to $610,000. This equated to roughly $370,000 in incremental revenue."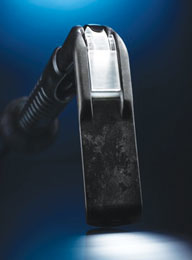 Invuity offers surgical instruments with built-in light sources that enable surgeons to see the surgical cavity more clearly, thus making it less likely that a foreign object is missed before closing the surgical site. "Invuity's minimal access surgical devices provide direct visualization within the surgical cavity," said Guido. "Products include illuminated retractors, hand-held illuminated devices, and drop-in illuminators. This direct visualization enables thorough inspection of the surgical cavity to identify and retrieve foreign objects that may have otherwise been left behind in the wound."
An article written by Anderson-Drevs last year underscores the idea with a quote by Ronald Wyatt, MD, Medical Director of The Joint Commission's Office of Quality and Patient Safety: "Another newer technology to consider is proprietary photonics technology. This provides thermally cool intracavity illumination, which greatly improves visualization of the surgical cavity and allows a thorough visual inspection both during surgery and before closing."6
Guido added "Studies show total cost of care related to an unintended retained foreign object is $160,000 to $200,000. Cost includes legal defense, indemnity payments, and surgical costs not reimbursed by CMS." The Invuity instruments are valuable prevention tools he asserted, referring to The Joint Commission's "Sentinel Event Alert on Preventing Unintended Retained Foreign Objects."7
Unlike the thermal hazards associated with traditional fiber optics, the Invuity devices operate on a proprietary thermally cool illumination technology to help decrease the chance of patient burns and surgical fire. "Surgical burns represent a risk for hospitals, but occur very infrequently," said Guido. "In the event that the hospital encounters a lawsuit, malpractice insurance covers the claim, but the surgeon's malpractice insurance premium, which is typically paid by the hospital, increases."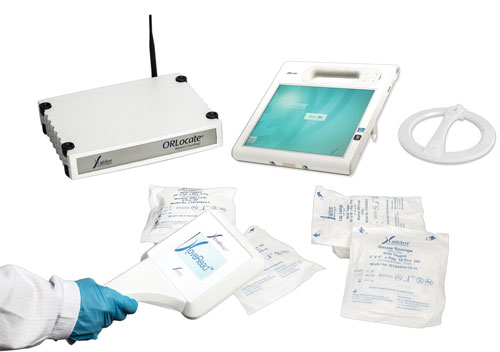 Haldor USA Inc. also offers a product to help prevent retention of foreign objects, including sponges. Pete Koste, Vice President, Strategic Accounts, briefly described how it works. "Using RFID technology, Haldor's ORLocate can eliminate the risk and liability associated with retained surgical sponges. ORLocate is capable of identifying and counting individual sponges for reconciliation [and can] scan the patient and surgical site, detecting tagged sponges, ensuring nothing is left behind."
Cross-contamination can be a factor in hospital-acquired infection Never Events, and one proven way to reduce it is to practice proper hand hygiene consistently. Unfortunately, compliance is not where it should be, and the traditional method of tracking compliance, observation, is inherently flawed.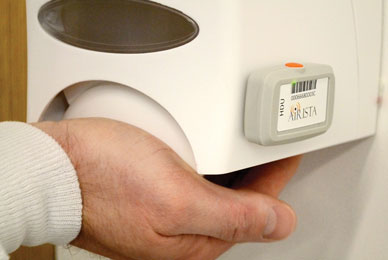 Jason Burnham, Associate Director, Marketing, Halyard Health, said automatic monitoring of compliance can save staff hours on audits and reporting so that their time can be "better allocated to solving the Never Events that have an impact on patients and cost of care."
He said Halyard's AiRISTA Hand Hygiene Monitoring technology provides 24/7 monitoring, reporting, alerting, and feedback to individuals automatically with sensor technology, potentially relieving staff of hundreds of hours of labor.
Referring to an urban hospital on the East Coast, Burnham said the facility achieved a 38 percent improvement in hand-hygiene compliance in just three months using the AiRISTA Hand Hygiene Monitoring system. "In numerous publications of data provided directly from hospitals, hand-hygiene improvement using electronic monitoring correlated to up to a 72 percent reduction in infections and up to $476,000 in direct cost savings."
Burnham added that, as CMS and private insurers tighten quality expectations on Never Events, the conditions they consider for quality metrics are expanding annually. This leaves many hospitals addressing last year's metric within the scope of potential penalty, which adds an additional strain on quality and infection-control departments that goes beyond their normal workload.
"Infection-control and quality departments are already constrained with manual monitoring, rounding, and severe gaps in automation to help them with efficient use of time," said Burnham. "Staff find themselves spending a majority of time documenting and processing, leaving little time for problem-solving. An easy example is hand-hygiene audits and manual monitoring. Staff frequently spend dozens of hours each month on audits, and hours more processing and reporting data, often manually. Automated hand-hygiene compliance monitoring can provide comprehensive, 24/7 monitoring with hundreds of hours in reduced labor and without the inherent bias of manual monitoring. Electronic monitoring works." HPN
References
1. Agency for Healthcare Research and Quality. Patient Safety Network. Patient safety primer: Never Events. December 2014.https://psnet.ahrq.gov/primers/primer/3. Last accessed April 20, 2016.
2. The Joint Commission. Summary data of sentinel events reviewed by The Joint Commission. October 26, 2015.http://www.jointcommission.org/assets/1/18/2004-2015_3Q_SE_Stats-Summary.pdf. Last accessed April 30, 2016.
3. The Joint Commission. National Patient Safety Goals Effective January 1, 2015.http://www.jointcommission.org/assets/1/6/2015_NPSG_HAP.pdf. Last accessed May 1, 2016.
4. Mehtsun WT, Ibrahim AM, Diener-West M, et al. Surgical never events in the United States. Surgery. 2013;153(4):465-472.
5. Preventing Medication Errors: Quality Chasm Series. In: Aspden P, Wolcott JA, Bootman JL, et al, eds. Washington, DC: The National Academies Press; 2007. PDF available at http://nap.edu/11623. Last accessed May 1, 2016.
6. Anderson-Drevs KS. Lessons learned: preventing patient safety events involving unintended retained foreign objects, part 2. The Source. 2015:13(7):14,15. Last accessed May 1, 2016.
7. The Joint Commission. Sentinel Event Alert. Preventing unintended retained foreign objects. Issue 51, October 17, 2013.http://www.jointcommission.org/assets/1/6/sea_51_urfos_10_17_13_final.pdf). Last accessed April 27, 2016.