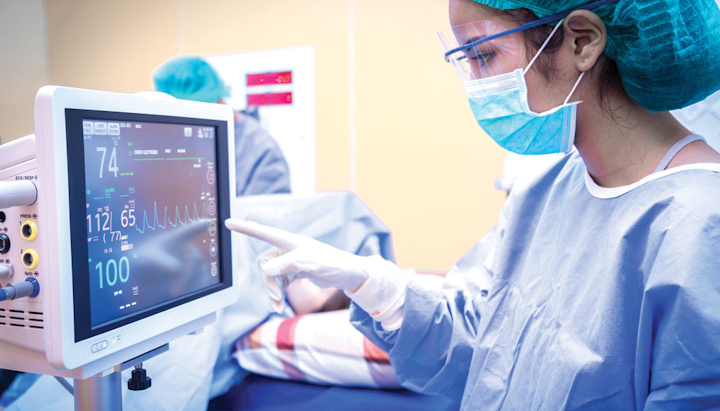 Nobody working in the surgical and critical care department would defy the value of patient monitoring equipment. Every day it succeeds in helping clinicians prevent serious infections and other adverse events. In fact, patient monitoring equipment saves millions of lives every year.
On the flipside, however, inpatient monitoring technologies can also create a significant challenge to both caregivers and the patients tethered to the machines. For a variety of reasons, healthcare experts also experience some frustration when using certain products. While some of the discord has to do with a facility's inability to purchase more advanced models to make care delivery easier, which we'll look at in our product spotlight later, in other instances dissatisfaction really boils down to the fact that some of the technology just hasn't changed or progressed enough to address end-user concerns.
Perioperative professionals signal for help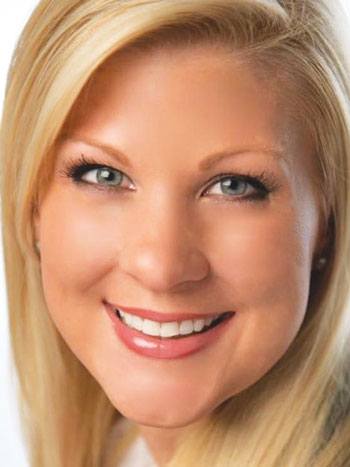 Erin Kyle"From the perioperative nursing perspective, effective patient monitoring is essential in all phases of care — and it should be easy, but it's not," said Erin Kyle, DNP, RN, CNOR, NEA-BC, a Perioperative Practice Specialist at the Association for periOperative Registered Nurses (AORN). "Tangled cords, bulky portable monitors, lack of standardized equipment or interoperability between systems, absent or ineffective electronic medical record interface, and the cumbersome nature of removing and re-attaching monitoring cables between each phase of care are the biggest pain points in many perioperative settings."
Frank Federico, RPh, Vice President and Senior Safety Expert, Institute for Healthcare Improvement (IHI) points to another pain point that clinicians continue to battle — alarm fatigue. "If you are asking about the inpatient setting, a big issue continues to be too many alerts and alert fatigue," said Federico. "Human factors science tells us that after a while, humans will tune out all the noise resulting in the situation where critical alerts are missed." Fortunately, he added, "some work has been done on changing parameters to minimize alarms. It's important to consider the aim of monitoring. By monitoring for vital signs, we will be able to determine changes in a patient's condition. Some changes warrant immediate action, such as a deteriorating patient."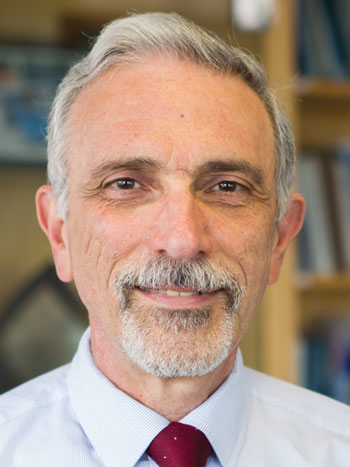 Frank Federico
It's also important to consider whether clinicians, who feel increasingly pressured to hit the ground running and never stop, have become too dependent on monitoring devices when determining the appropriate course of care, including life-saving interventions and treatment. 
"In some cases, what has happened is an over-reliance on monitoring equipment and less clinical judgement," said Federico. "Nurses and doctors are expected to do so much in a day that it is becoming more and more difficult to be at the bedside to see visual clues that the patient is deteriorating. Oftentimes, a doctor, nurse or family member can determine that something has changed in the patient's condition before it is picked up by the monitors."
Perioperative patients report problems too
If those scenarios seem disconcerting, it's probably safe to say that the patients who are connected to these various types of monitoring equipment would also feel uncomfortable by the experience in some circumstances, albeit for different reasons.
"The tethering effect of patient monitoring cords for patients is their biggest complaint," Kyle asserted. "We know that early ambulation encourages healing in hospital settings, but all the things that we attach to patients makes this extraordinarily difficult for them. Advances in technology that allow wireless transmission of monitoring data would allow those patients who need continuous monitoring to be monitored and would leave them freer to move."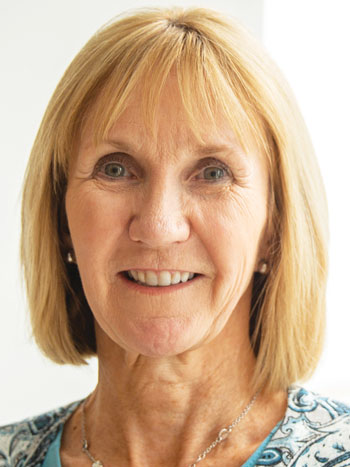 Patricia McGaffiganIn a similar vein, IHI's Vice President of Safety Programs, Patricia McGaffigan, RN, MS, CPPS, said "Monitoring systems often require tethering of the patient to sensors or electrodes and reduce their ability to engage in simple movements and reduce functionality. Patients may be prohibited from simple actions such as signing permission forms or filling out lunch menus, especially if sensors may be placed on their writing hand, so it's important to ask the patient's preference." Also, "One important area for staff to understand is that if patients are removed from monitoring for toileting, ambulation or transfers from bed to chair and they are not reconnected to monitors on a prompt or consistent basis, this can create further fear and confusion for patients about why the monitoring has not resumed." 
Commenting further from the patient's perspective about those pesky, but important, alerts and alarms, McGaffigan said, "While the majority of alarms may be a nuisance, patients expect a timely response," she said. "The psychology of alarms is important to understand, especially because alarms are intended to notify staff to respond and evaluate the patient. If there is no response or a delayed response to alarms, fears and concerns of patients, families, and visitors escalate."
In addition, McGaffigan said it's important to recognize when patients might need more education about the equipment that is being used. "One of the main reasons why patients may complain about monitoring is that they may not understand what type of monitoring is occurring and why it is important to their care," she said. "Whether monitoring is invasive or noninvasive, it's important to provide context for why monitoring is being done and what benefit it will provide. It's also important to ground patients and family members in the what's and why's of their monitoring, and what to do if an alarm sounds and there is not a prompt response by staff."
And finally, is the equipment truly clean and safe or is it harboring potentially infectious pathogens? "Patients often worry whether reusable sensors, blood pressure cuffs, telemetry packets and other devices and sensors have been properly cleaned between patients," McGaffigan said. "Staff should ensure that cleaning of any reusable devices or sensors have been completed and reassure patients as appropriate."
Input for improvement
Before moving on to our patient-monitoring-equipment spotlight, Healthcare Purchasing News also gave these experts an opportunity to share what they think is working and what they feel manufacturers might consider when looking to improve current technologies or develop new ones.
"I would encourage designers and manufacturers to use a human-factors approach in the development and implementation of devices," said IHI's Federico. "Some devices are too complex to use and thus the monitoring is not completed correctly, or the information may be useless. I'd also like them to consider what the additional information adds to the volume of data that a clinician must review. Finally, consider the display of data as a graph rather than a data point. A graph helps to more easily visualize the pattern of the values being collected."
Kyle said she has "Two words: Go cordless" without sacrificing quality readings and to also put more focus on how suppliers can make it easier for healthcare organizations to acquire the latest equipment. "Get creative about recycling and trade-in programs that help organizations keep pace with technology advances," she offered. "Gone are the days where organizations purchase monitoring systems and keep them for decades. Organizations' capital budgets may not allow them to purchase new technologies, even when these technologies can improve outcomes and facilitate efficiencies that can ultimately result in healthcare cost savings. We need manufacturers to partner with healthcare organizations in a new model that is affordable in the U.S. market — from tertiary care centers to rural settings. Sales models should adapt to the rapid advances we are seeing today."
Those are good suggestions — we hope our patient monitoring vendors are listening. Meanwhile, what follows is a snapshot of what some suppliers say are the primary pain points among their customers and what they are offering right now to help clinicians improve the process of monitoring patients.
A monitoring solution for MRI patients
Inter departmental patient transfers, especially to MRI, are a huge pain point for everyone involved, says Kevin Jirka, Director of Product Marketing, IRadimed. "This might be the only scenario in westernized medicine where a patient switch-over is happening in the hallway of a department such as radiology," Jirka stressed. "IRadimed is the only producer of non-magnetic patient monitors in the world. Due to our small size and weight, our solution can be used to transport patients eliminating many issues associated with transporting a patient to MRI or during unique workflows such as MRI.
IRadimed's non-magnetic 3880 monitor at MRI Bore

"Without our product, patients needing to go to MRI have to use multiple equipment transfers and are often rushed into the MRI room for a few minutes without a monitor," Jirka continued. "This happens quite often during an anesthesia workflow where a patient is induced in the induction room and then taken off all monitoring devices to rush them into the MRI room. This is probably the only scenario in western medicine where an anesthetized patient is being unmonitored for a period of time. Our monitor is being used inside the induction room and can easily transport inside the MRI magnet room. This provides continuous monitoring through the entire process and even to PACU. Our monitor eliminates the unmonitored time which improves patient and MRI safety while preserving a clinician's bandwidth to do other things."
Monitoring the IV patient
Echoing McGaffigan from IHI, Gary Warren, President and CEO, ivWatch, noted the importance of making sure patients are informed and understand why certain equipment is being used. "Although many patient monitoring tasks are routine to clinicians, it's certainly personal to the patient. Take getting medication through a peripheral intravenous (IV) catheter for example. Every infiltration is a medication dosing and delivery error that can impact the patient through prolonged hospital stays, increased healthcare expenses, or permanent injuries. [Yet] a patient may not be aware of what is normal or how to communicate an issue if they believe something is wrong," said Warren.
Also similar to what IHI's Federico explained earlier, "There is a fear in healthcare that critical thinking will be lost as the rate of technological acceptance increases," Warren said. "Yes, there are new technologies that are not intuitive and cause frequent troubleshooting. These ultimately take the clinician away from priority tasks and can end up in the 'more trouble than it's worth' category. However, we've seen most healthcare professionals are eager to adopt innovative patient monitoring technologies when they easily fit into the workflow and provide another layer of care, especially when it can help them confirm an assessment or reduce preventable harm events.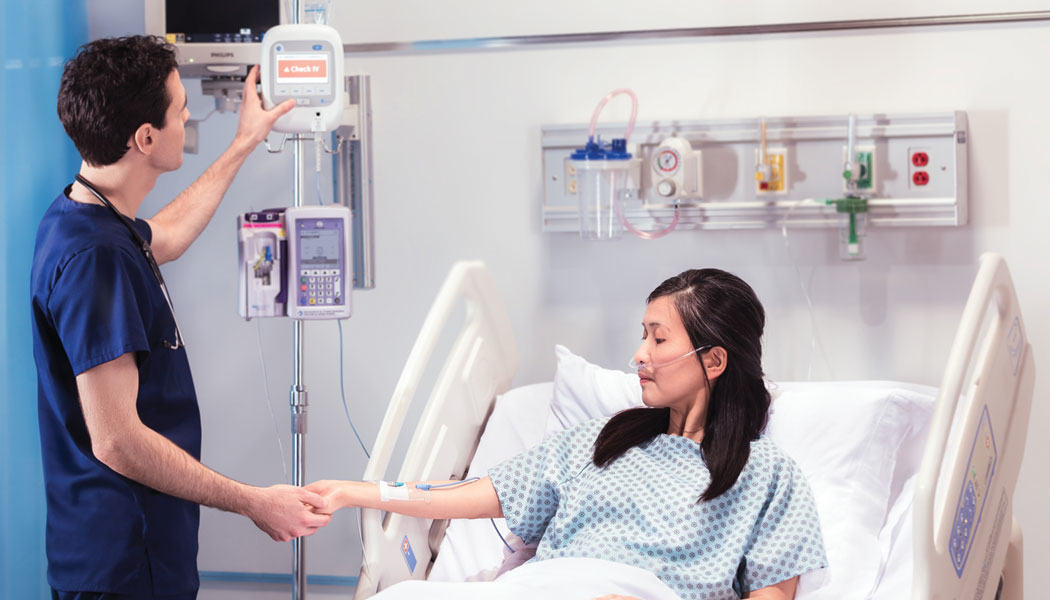 ivWatch Model 400

"Similar to continuous monitors available for a patient's heart and blood oxygen level, the ivWatch Model 400 is a non-invasive device that continuously monitors peripheral IVs for infiltration and extravasation events," continued Warren. "Identifying these events before what is possible by the human eye can improve clinician performance as well as financial through the reduction of extra medication, moderate and severe events, additional procedures and length of stay when an infiltration occurs. A recently published study from clinicians at Cincinnati Children's Hospital Medical Center had a core objective to analyze how the ivWatch Model 400 compared to clinicians' assessments in the early detection of IV infiltration. The key finding of the pilot study was the patient monitoring system detected a peripheral IV infiltration 80 percent of the time before the clinician detected the leakage event."
Customized monitoring
Monica Pinkernell, RN, Senior Director, Global Channel Marketing, Spacelabs Healthcare, points out that according to studies, customizing alarm settings to patient needs can lead to a decrease of up to 42 percent of alarms and explains how her company is helping clinicians reduce alarm fatigue.
"Spacelabs takes a patient-centric approach to alarm management with learned alarms as one example," Pinkernell said. "Once a patient is connected to the monitor, the rate and rhythm are learned, and customized alarm limits are set for each patient. Through the utilization of intelligent secondary alarm notification software, frontline staff can react quickly to actionable alarms, while also minimizing alarm fatigue. Spacelabs promotes a healthy patient environment by helping to create a calm bedside environment with a patient-specific notification system designed to minimize false positive alarms while providing comprehensive alarm history information to the clinician. At the same time, Spacelabs BlueTooth and telemetry ambulatory patient monitoring solutions encourage early, safer ambulation, which can contribute to decreased lengths of stay and improved patient satisfaction.
We understand that hospitals are increasingly driven to leverage their IT investments," Pinkernell continued. "We address this need with solutions based on open architecture for EMR integration and access to physiological data across the enterprise. Delivering critical patient data across local and remote systems enables better-informed decisions and creates a safer environment for patients. Many hospitals challenged with monitoring patients across multiple campuses are choosing to implement Central Monitoring Units to more effectively manage these patients. The percentage of physicians prescribing telemetry monitoring for their patients has significantly increased over the years, leading to an overutilization of telemetry without significant clinical benefits.  This over usage leads to multiple issues such as alarm fatigue and decreased throughput as patients have increased wait times in the ED as a result of no available monitored beds (being taken up by patients that don't meet monitoring criteria).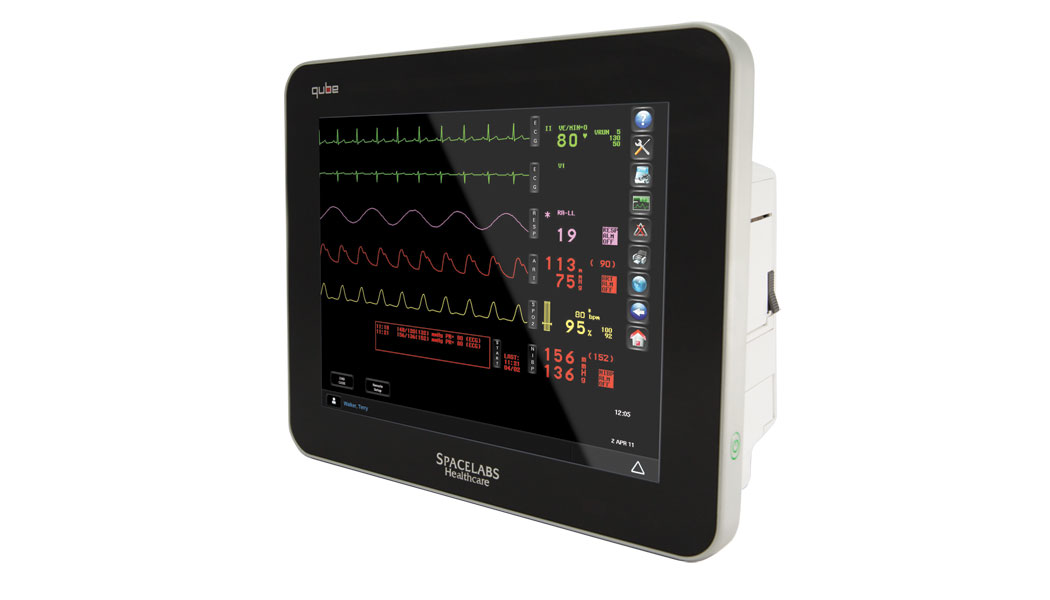 Qube compact bedside monitor from Spacelabs Healthcare

"Overutilization of telemetry also leads to increased costs for the hospital.  Spacelabs' productivity software assists hospitals in better managing these patients while also addressing the communication challenges inherent to implementing a central monitoring unit.  Utilizing this software, a hospital system in the Midwest was able to achieve real results such as: 23,000 decreased calls to central monitoring room, a 30 percent decrease in telemetry utilization, and a 100 percent paper-free process when initiating monitoring."   
Viewing the heart-brain relationship on a single screen
Katie Szyman, Vice President of Clinical Care, Edwards Lifesciences, says jockeying with multiple monitors and screens to make clinical decisions is frustrating but solutions are available with more to come.
"We are continuing to invest in and evolve the HemoSphere platform with the goal of streamlining the information that clinicians see on one single monitor," Szyman told HPN. "With the addition of the ForeSight tissue oximetry sensors to the HemoSphere platform, clinicians can monitor the status of the heart and the brain, giving them a more complete view of a patient's hemodynamic status throughout a procedure. The HemoSphere advanced monitoring platform allows clinicians to see, experience and interact with multiple hemodynamic parameters on one monitor. What makes this platform unique is that it offers a broad range of tools for clinicians, which range from minimally invasive sensors (like FloTrac) to more complex solutions (like Swan Ganz). This can give a clinician the flexibility they need to change the course of treatment depending on a patient's need, making this system scalable based on the procedure.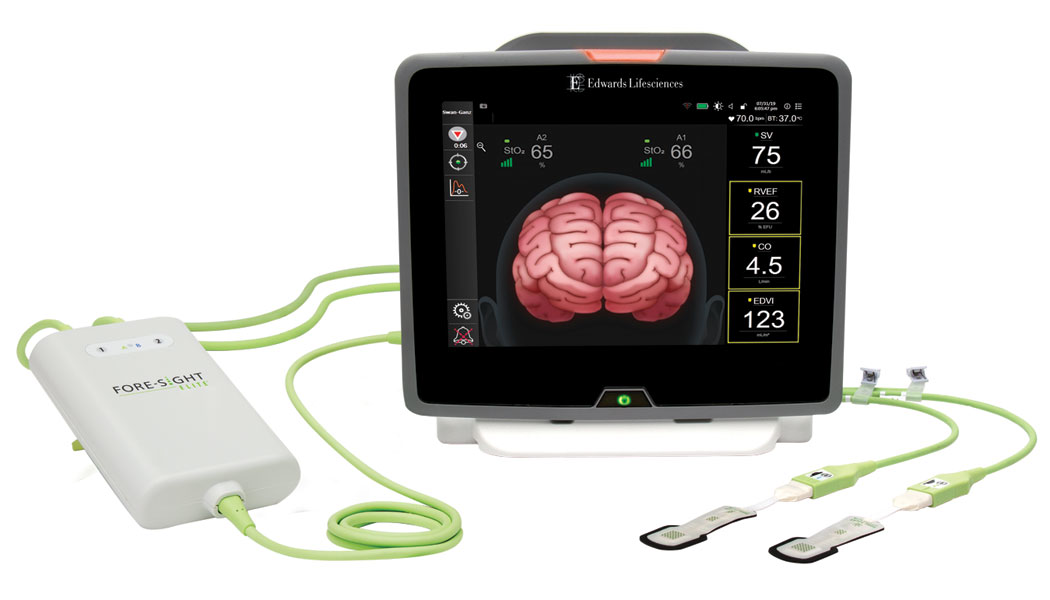 HemoSphere CX advanced monitoring platform from Edwards Lifesciences

"The addition of the ForeSight cerebral oximetry sensors now allows our monitor to not only measure the flow of oxygenated blood, but it also measures how the brain is absorbing that oxygenated blood," Szyman continued. "This combination uniquely gives a complete picture of the patient's hemodynamics on one monitor.  The platform also utilizes a first-of-its-kind predictive software, the Acumen Hypotension Prediction Index (or HPI), which detects the likelihood of a drop in blood pressure before the event occurs."
Monitoring kidneys, preventing AKI
Mary Pat Eble, MSN, RN, Clinical Product Specialist, Urology, Medline Industries, Inc., says the current techniques for gathering intra-abdominal pressure (IAP) and urine output data can be complicated, inaccurate, and may increase the risk of urinary tract infections. She said, "An estimated 57 percent of patients in the intensive care unit (ICU) develop AKI and there are an estimated 300,000 deaths from acute kidney injury (AKI) annually in the U.S. In a recent study published in CHEST, researchers determined intensive monitoring of urine output is associated with increased detection of acute kidney injury and improved outcomes, including reduced 30-day mortality in patients developing AKI and reduced fluid overload for all patients. Yet, only 26 percent of patients are receiving intensive urinary output monitoring."
Fortunately, the company's Accuryn product offers a solution.
"Accuryn transforms the traditional urinary catheter into a next-generation diagnostic tool by using proprietary electromechanical designs and advanced software algorithms to deliver automated, real-time, continuous accurate, actionable data including IAP, urine output and core body temperature,' said Eble. "Whereas traditional methods for measuring IAP often involve complex setups that increase the risk of clinician error or require opening the closed drainage system — putting patients at an increased risk for a catheter-associated urinary tract infection (CAUTI), the Accuryn urinary catheter measures IAP from a small balloon seamlessly integrated directly below the catheter tip. Simply push a button and get an accurate reading.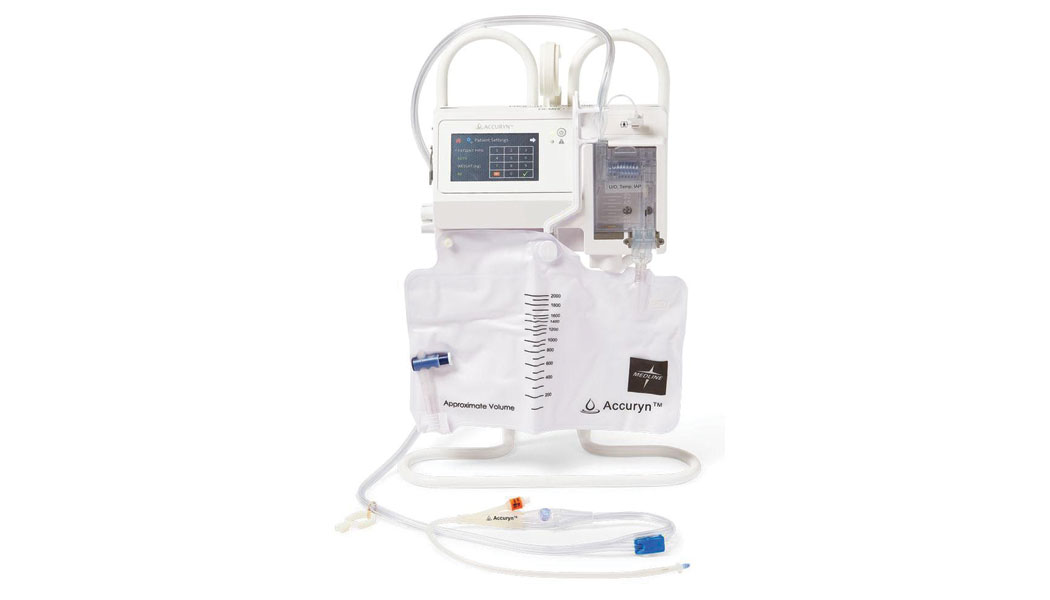 Accuryn Critical Care Monitoring System from Medline

The same holds true for urine output measurements with the Accuryn Monitoring Device," Eble continued. "Nurses no longer need to take manual, hourly urine output measurements which are often highly inaccurate. Rather, due to Accuryn's exclusive Active Drain Line Clearance, measurements are so exact and timely that physicians are able to diagnose acute kidney injury sooner and to implement precision interventions.
Referring to a 2017 study published in the Journal of Burn Care and Research Eble said, "Urine Output (UO) is the primary physiological sign used to guide fluid therapy during burn resuscitation. Electronic UO monitors can cause inaccurate UO measurements due to the formation of airlocks causing urine retention in the tubing and bladder. In a recent multi-center study in burn intensive care units, urine output was measured in patients who were randomized into two separate groups. The control group used the Criticore electronic urine monitors with a standard Foley catheter system. The test group used the Accuryn system with automated airlock clearing drainage tubing system. 18 patients were enrolled in the study with one patient in each group participating in the study twice In the control group, 50 percent of patients experienced airlocks that impeded drainage line flow while none in the test group experienced this issue."
Preventing OIRD
Howard Karesh, Vice President, Corporate Communications, Hillrom, says his company is currently focusing on helping clinicians identify and intervene before opioid-induced respiratory depression (OIRD) develops. Some inpatients on opioid treatment are vulnerable to OIRD which he reminds can lead to increased lengths of stay, ICU readmissions, even patient mortality.
"One option to satisfy this need is to use standalone capnography devices to monitor patients who are high-risk, but this approach requires clinicians to use, understand and manage multiple devices as a part of that workflow. It can also increase supply chain complexities," said Karesh. "Hillrom's Welch Allyn Connex Vital Signs Monitor with integrated Microstream Capnography offers continuous respiratory monitoring in the same type of monitor that clinicians use for taking routine vitals every day. The result is a single, simple-to-use solution that gives clinicians access to the right level of monitoring for their patient's needs. I would put the features of the Hillrom's Welch Allyn Connex Vital Signs Monitor and our connectivity solutions into two buckets — simplicity and security.
"We look to provide products that are easy to use and fit into the workflows of the clinicians in those care settings — which have unique needs," Karesh continued. "Simplicity also extends to integrating with the hospital's IT infrastructure and EMR systems — we've got a proven combination of people, processes and technology to enable deploying connected solutions in a streamlined and cost-effective way. Today, patient monitoring and IT security are inseparable. Hillrom recently received an Authority to Operate (ATO-C) designation from the U.S. Department of Defense, which authorizes our vital signs monitors to be connected to DoD healthcare system networks in the U.S. and internationally. We are currently the only low-acuity monitor provider in our category to have devices with this approval."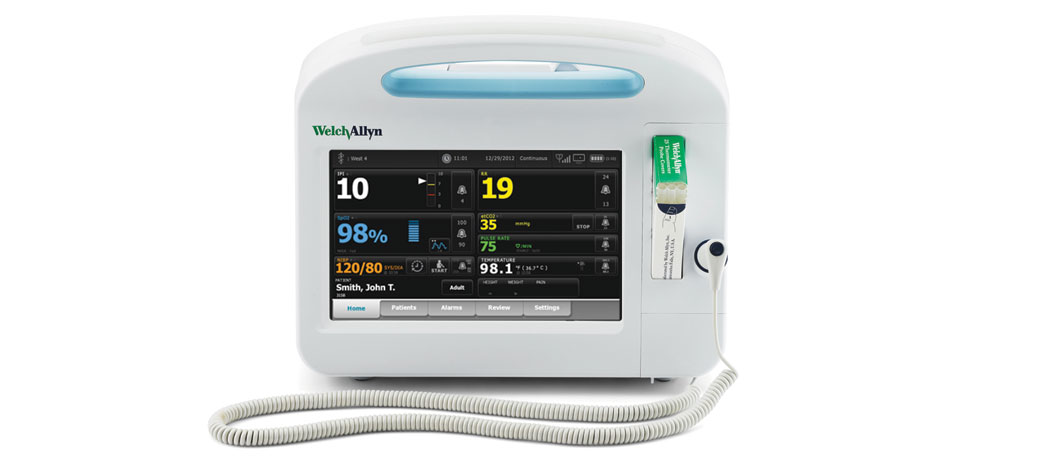 Welch Allyn Connex Vital Signs Monitor by Hillrom

Karesh noted a recent study of Hillrom's vital signs monitors, which were connected to a large teaching institution's EMR: "The result was a 34 percent time savings in the vitals process — for them, this equated to a reduction of 13,208 hours per year in time clinicians spent documenting patient vital signs. Even more importantly, we were able to show that this allowed each nurse to spend an additional 2.5 percent of their time on value-added care activities — directly caring for patients."
AORN's Kyle related a strikingly similar success story, although the names of the healthcare organization and equipment vendor were kept confidential.
"At one organization, PACU nurses requested an upgrade to their existing vital signs monitoring equipment to allow them to integrate capnography monitoring for sedated patients. In addition, device integration with the EMR and automated documentation would allow them to effectively monitor patients and complete accurate documentation more efficiently," explained Kyle. "They thought that not having to manually enter vital signs every five minutes would allow them more hands-on patient care time. To justify their purchase request, the team evaluated the time that each nurse spent manually inputting vital signs to the EMR for each patient over the course of four weeks. They discovered that they were spending an average of 12 minutes for each phase I recovery patient on manual vital signs documentation.
"The organization decided to purchase the requested monitors and the EMR interface software," continued Kyle. "In the first weeks after implementation, the team realized the improvements they predicted. Throughput in the PACU improved with more efficient phase I discharge, preventing bottlenecks that can impede the surgery schedule. Nurses reported improved satisfaction and cited more 'hands-on time' as a major driver for that improvement."


See our People & Opinons feature for a companion article on remote monitoring.