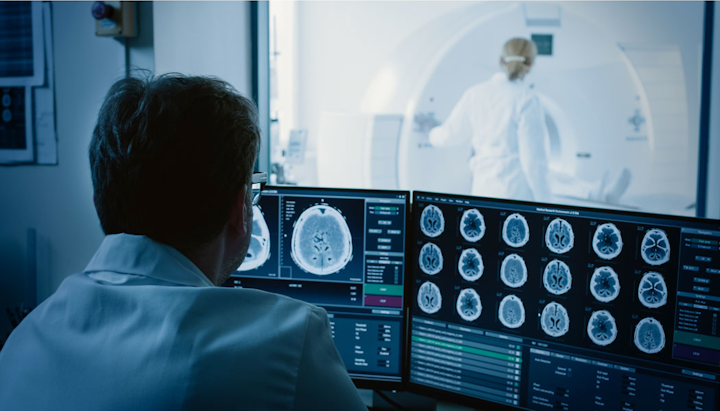 Just as the resolution of digital televisions has evolved from high definition (HD) to ultra high definition (4K) to the mind-blowing 8K (33 million pixels) resolution, display monitors used in medical procedures have drastically improved over the years, offering unprecedented imaging quality.
In this article, we explore the differences between consumer grade and medical grade display monitors, how the technology in this field has changed in the last few years and where it is headed, and what new products are available to provide clinicians with the best possible images for patient care.
Features of medical grade monitors
Because they are used in healthcare environments for the diagnosis and treatment of a variety of conditions – from the use of ultrasound to capture images of an advancing pregnancy, to the use of C-Arms, CT scanners or MRI scanners to guide surgery in a hybrid operating room (OR), requirements for medical grade display monitors vary greatly from a TV screen in somebody's living room.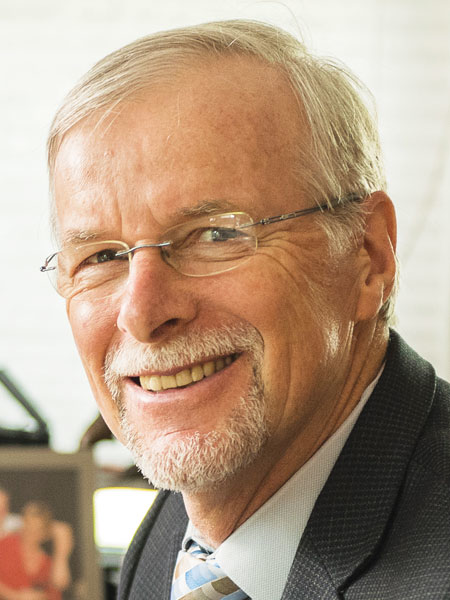 "Most medical display vendors will file a 510(k) so they can claim to be a 'medical device,' so yes, there is a category for that with the Food and Drug Administration (FDA)," said Herman Oosterwijk, President, OTech. "You could use a consumer grade display, however, you need to make sure it meets the minimum requirements as specified by the applicable standards organizations, that it is always calibrated, that you control the ambient light and take into account the time it takes to stabilize the display (typically half an hour after start up). Because of these logistics, most hospitals will not bother and take the safe route."
Oosterwijk points to several guidelines for medical displays, including the American College of Radiology (AACR), American Association of Physicists in Medicine (AAPM) and Society for Imaging Informatics in Medicine (SIIM) Technical Standard for Electronic Practice of Medical Imaging (revised 2017).1
"Medical grade displays are built to a higher safety standard than standard IT monitors," said Herb Ruterschmidt, President, TRU-Vu Monitors. "This is especially critical in the OR, as well as any other instances where the displays are in close proximity to patients."
This is not to say that manufacturers have not leveraged technological innovations in the consumer realm when developing medical grade displays. In fact, the opposite is true. For example, LG, which is a leader in the global display market, has used its industry-wide expertise to develop medical monitors that meet the requirements for healthcare workflow, explains Tom Impellizeri, Senior Account Manager, Medical Monitors, LG Business Solutions USA, stating:
"LG's foray into medical monitors builds on the company's role both as world leader in advanced display technology and as the largest provider of in-room patient hospital TVs in the U.S."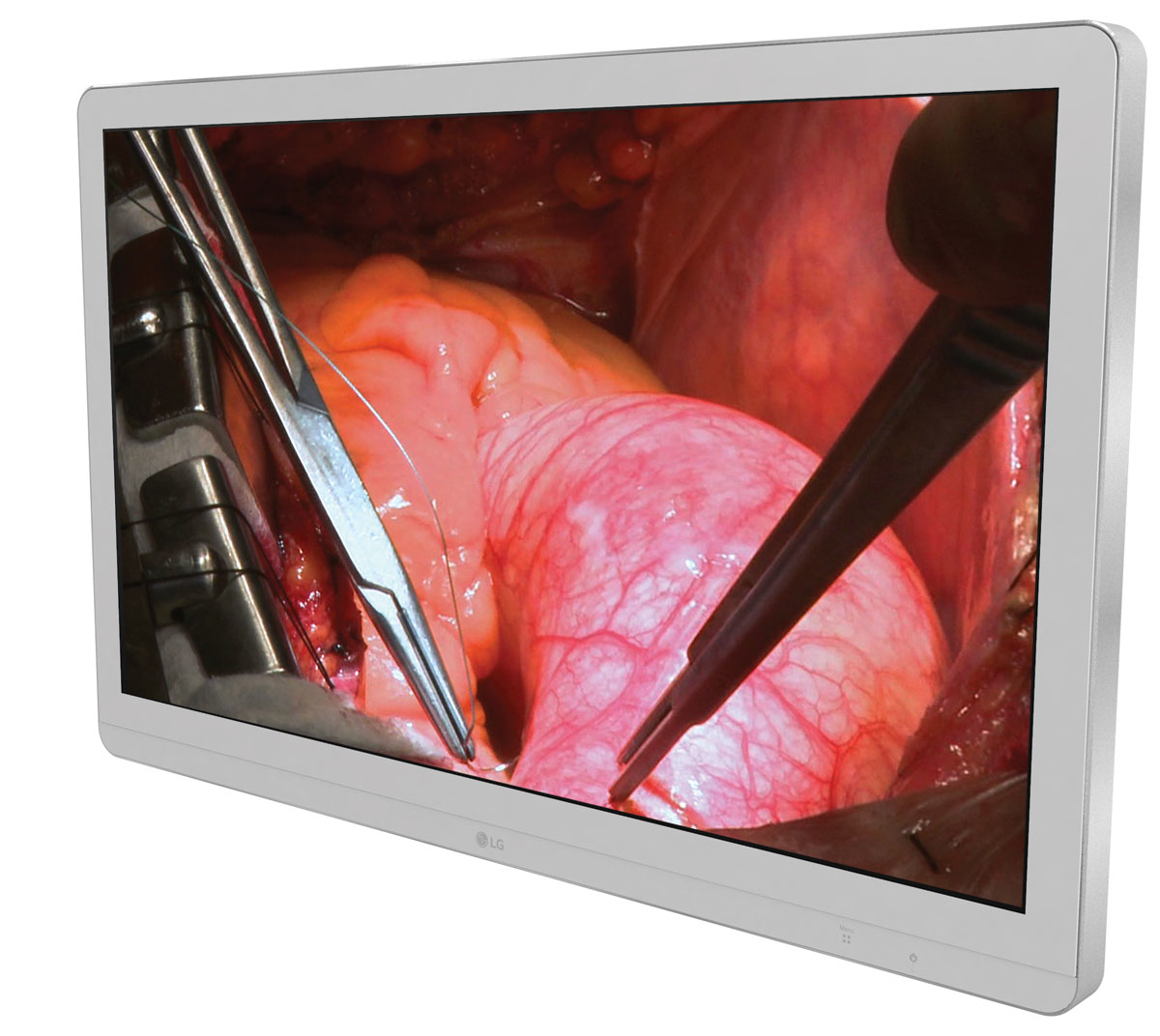 The LG 2HL710S (32 inches 4K) surgical monitor, coming this fall

Durability
"Because surgical grade displays will reside in the sterile field of an OR, they are designed to be extremely durable, sealed and have high quality panels to ensure the best image," said Stephanie Phillips, Associate Product Manager for Surgical Displays, STERIS. "They are built with an impact resistant shield to protect the panel from physical damage, which is important in the OR as nurses are constantly turning over the room. The displays need to be protected in case objects such as light heads, IV poles and booms collide with the monitor."
Image quality, color, contrast and brightness
Because this is healthcare, and imaging can impact a patient's outcome for better (e.g. correct diagnosis or successful procedure) or worse (e.g. misdiagnosis, procedural error), display monitors must feature exceptional image quality. Factors that can impact visualization of a patient's anatomy include color, contrast, distortion and brightness.
"Medical monitors display more colors, approximately one billion, compared with most consumer type displays that typically can handle about 16 million," said Anne Bondulich, Marketing Manager, Sony Healthcare Solutions. "This allows surgeons and clinicians to see anatomical structures in the body with far more detail. Consumer displays are better suited for areas such as patient hospital, waiting and conference rooms."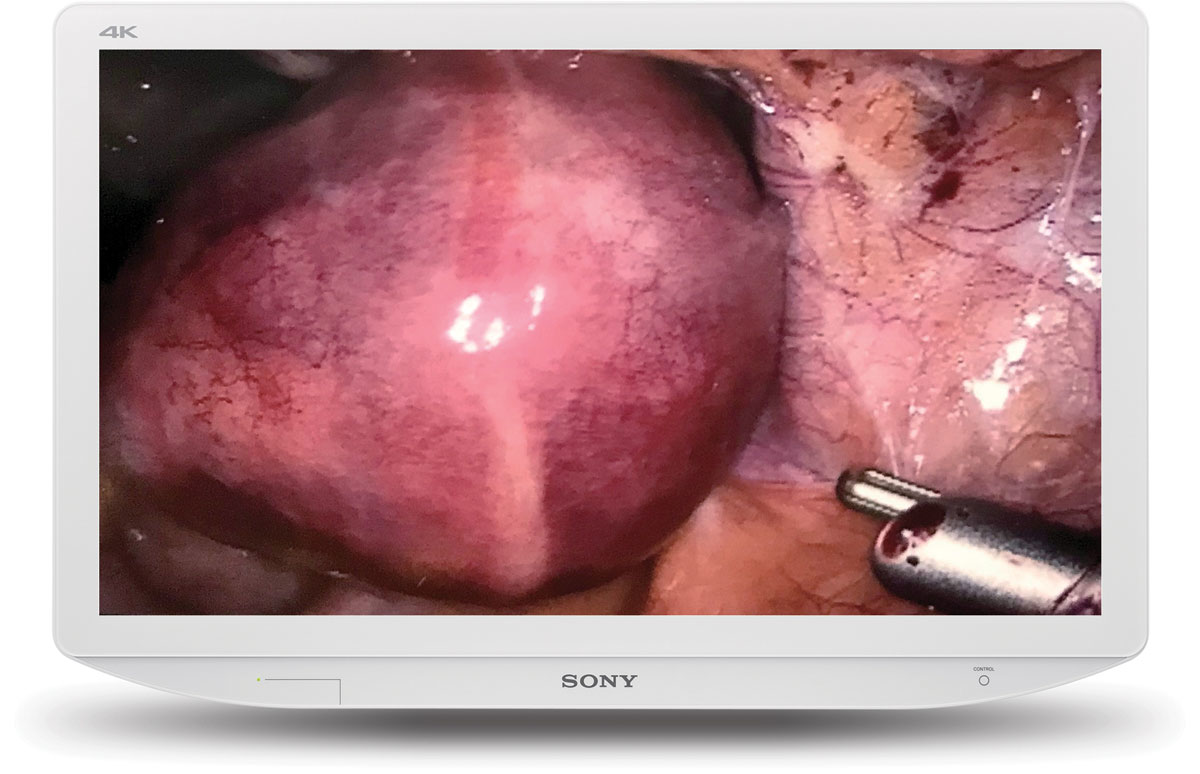 Mike Foldes, Field Manager, FSN Medical Technologies, says factors such as latency, color saturation, gamma, brightness and contrast are particularly important in cases of long-term viewing. Optimal image quality and rapid video update rates help reduce eye, physical and general fatigue when surgeons are performing invasive procedures including robot-assisted surgeries.
Compatibility and connectivity
Healthcare facilities often have a mix of different in-house equipment, from older legacy systems to the latest surgical innovations; therefore, compatibility is an important factor to consider when evaluating a display monitor, says Brian Schlueter, Sr. Marketing Manager, FSN Medical Technologies.
"Monitors certified for medical use must be capable of recognizing, accepting and displaying many types of signals from specialized surgical equipment," said Schlueter.
FSN Medical Technologies offers video recorders and the Control OR switcher, plus a large selection of connectivity products through its partner company OPHIT, all optimized for use with in medical applications.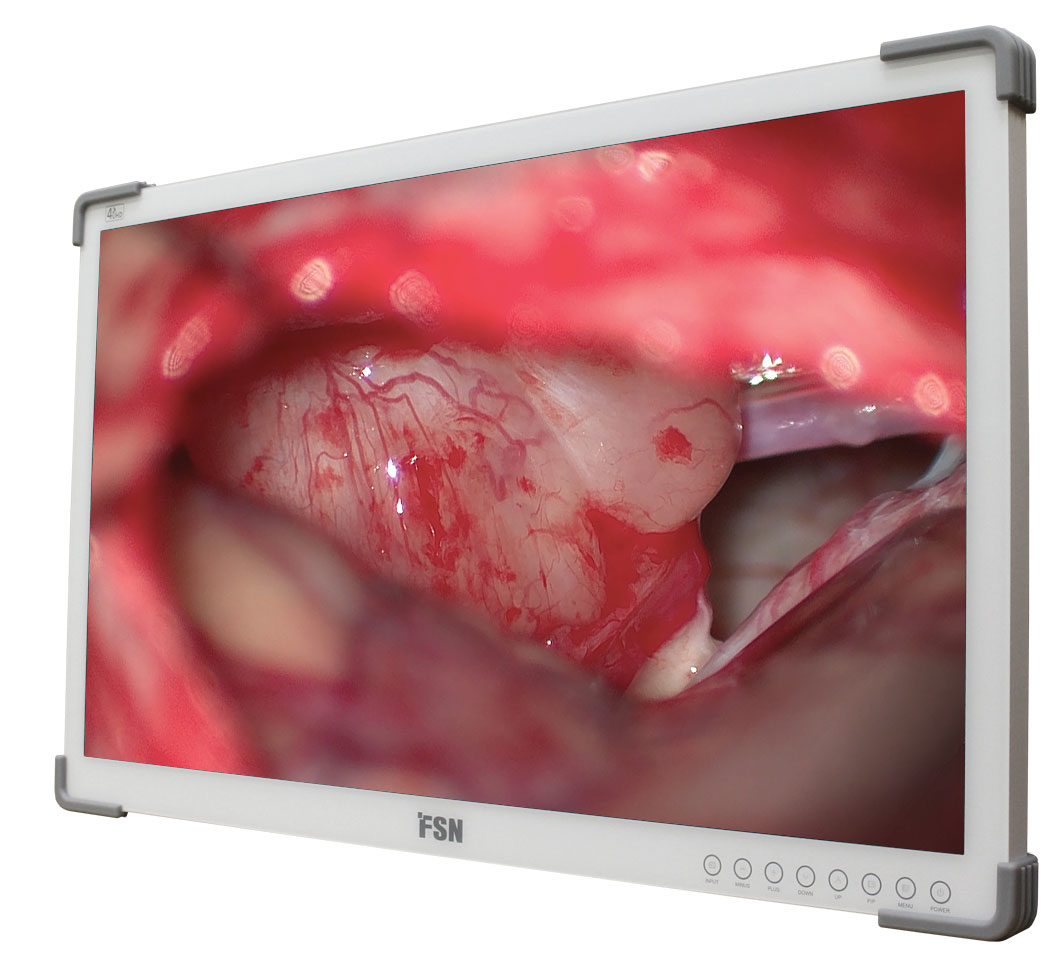 "A combination of FSN products is commonly used in setting up hybrid ORs where multiple types of procedures can be performed in the same physical space previously suitable for a single type of procedure (modality)," said Foldes. It would not be unusual, then, to carry on "endovascular, microsurgical, stereotactic radiological or combined interventions"2 in a properly designed hybrid OR when a diagnosis indicates the kind of treatment needed."
The Ampronix MODALIXX monitor can convert pre-existing cathode ray tube (CRT) monitors to a flat panel LED medical monitor, explains Michael Thomas, the company's Director of Marketing. He states:
"This monitor is pre-programmed with over 2,000 parameters so it can connect without any issues to the current modality it is being used on."
Electrical considerations and standards
"Medical grade displays are classified by the FDA as medical devices and satisfy product safety standards, including the IEC 60601-1 standard for the safety and essential performance of medical electrical equipment," said Bondulich. "They are designed for use in clinical settings, such as ORs for use with surgical endoscopic/laparoscopic camera systems, surgical microscopes, robotic surgical systems, and other compatible medical imaging systems."
Hospitals and other healthcare facilities are bursting at the seams with electronic equipment; just picture a patient's room, intensive care unit (ICU) or OR with its vast number of devices for diagnosis and treatment. Preventing interference between these pieces of equipment is a challenge in today's connected healthcare environment.
As Impellizeri points out, medical grade monitors must comply with the Federal Communications Commission's (FCC) Electro-magnetic Interference (EMI) Certification, which ensures the device does not emit or is susceptible to harmful energy that can interfere with other devices.
"Medical-grade monitors are designed to be used in close proximity to the patient, and they have low EMI emissions that won't interfere with other critical medical devices in the area," said Impellizeri. "This is to help assure patient safety and keep other critical medical devices from malfunctioning."
With any electrical equipment, including monitors, there is an inherent potential risk of harm to patients and staff members. As Steven Ross, Director of Marketing, NDS Surgical Imaging, points out, that is why medical-grade displays must comply with the stringent electrical safety certifications (UL-60101-1) required for medical devices. This ensures the product is safe to be used in the patient vicinity without creating an electrical shock hazard.
The patient care environment presents a number of risks for liquid splashing against a display monitor. Everything from bodily fluids and liquids used during a procedure (e.g. wound irrigation, IV fluids), to cleaning supplies used post-procedure. As a result, medical grade displays must be designed to protect against these dangers.
Thomas says compliance with the IEC's 60529 Ingress Protection standard (IP65) is an important factor in monitor design.
"One of the main differences is that medical-grade monitors are built to higher standards," said Thomas. "Some features would include Splash Proof IP65 protection, as well as an antimicrobial screen enclosure. Some medical monitors also include a secondary backup power supply as a safe guard feature in the event the main power supply fails."
Cleaning and infection risk
Ross explains that since medical-grade display monitors are cleaned regularly, ensuring that they have a relatively high ingress protection (IP) rating is important, stating:
"Monitors should be rated to be highly resistant to liquids and dust from penetrating the enclosure. This makes it faster and easier for staff to disinfect the monitor without risk of electrical malfunction and reduces the risk for cross contamination."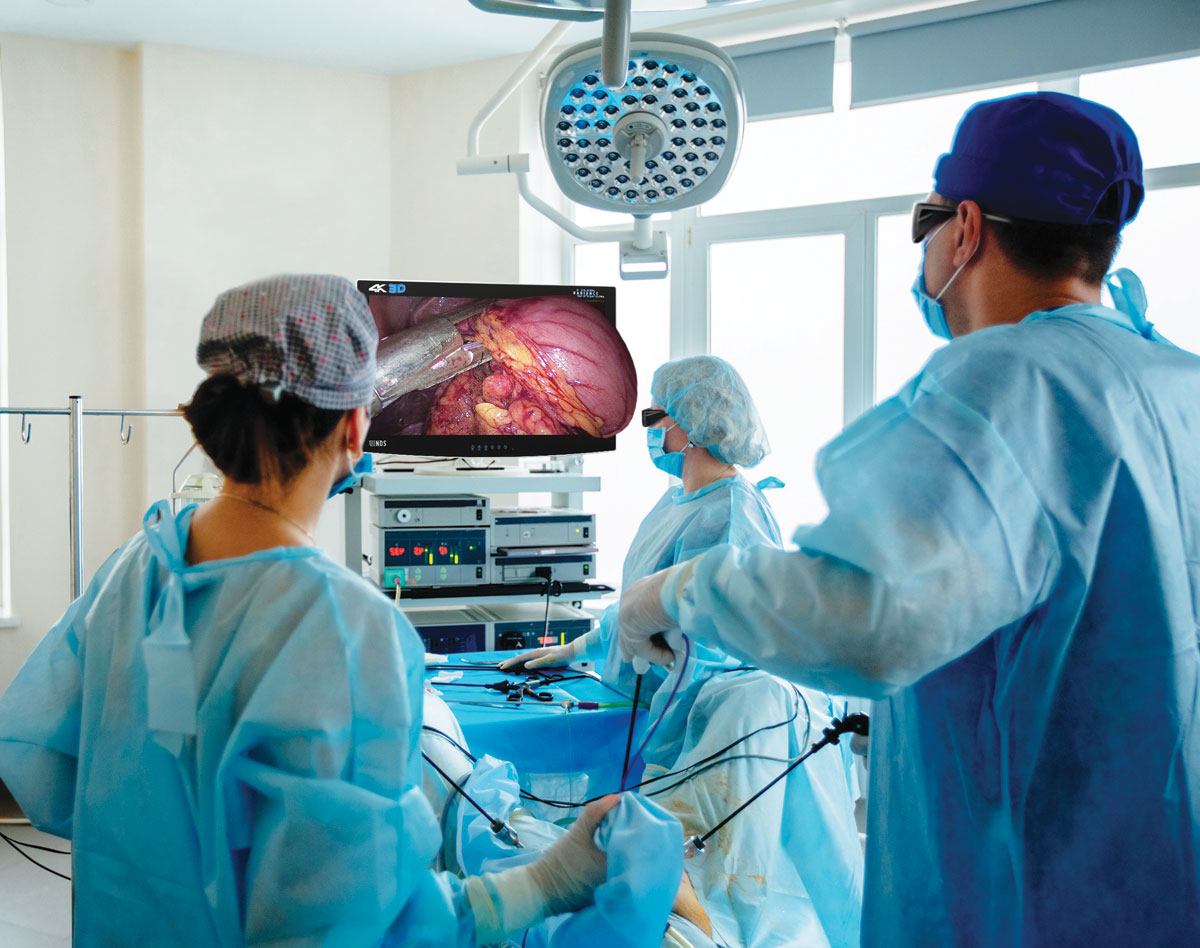 While cooling fans and vents to regulate thermal temperature are common design features among consumer grade displays, they are unsuitable in a healthcare environment because they pose a risk for cross-contamination, explains Phillips.  
"Most surgical monitors are fan-free," said Phillips. "This helps reduce the noise of a display and the fan-less display prevents debris from being circulated in the sterile field."
Maintenance and repairs
As Thomas points out, keeping advanced medical grade display monitors up and running and available when clinicians need them is a challenge in itself – and one that can be costly to the healthcare organization.
"One of our most cost-saving products is our Cath Lab/hybrid OR monitors," said Thomas. Since these typically sell for over $100,000 we are able to offer customers a direct replacement of their current existing monitors at around 50 percent of the cost compared to the original equipment manufacturers (OEM). We are also one of the only facilities that can repair these monitors, which is very important as when these monitors fail the facility can lose over $100,000 per day in missed surgery revenue."
"Recently when a hospital's Cath Lab monitor failed, we drove through the night to install a direct replacement monitor for them so they could be up and running that morning for scheduled surgeries," Thomas added. "This really highlights our capabilities and we were able to save this facility over $100,000."
The evolution of medical imaging
As with their consumer counterparts, medical grade display monitors have evolved and continue to evolve, particularly in terms of image quality and resolution. The use of 4K displays is becoming commonplace in healthcare, with some manufacturers offering 4K 3D resolution. The next great advancement in medical imaging are 8K medical grade displays, enabling clinicians to enlarge images to see the smallest details without compromising the quality/distorting the image. 
"Surgical visualization started as standard-definition imaging on CRT monitors, which then progressed entirely to flat panels, followed by the transition to high-definition. Now the adoption of 4K imaging technology is upon us, with HDR and 8K likely coming in the near future," said Ross. "An additional niche market that is developing is the advent of 4K Stereoscopic 3D displays and endoscopy cameras for specialty applications."
According to Ross, NDS Surgical Imaging's medical displays offer industry-leading brightness levels and a wider range of color, plus near zero latency and BT.2020 colorimetry emulation to optimize camera performance. They also feature color accuracy that exceeds the most challenging broadcast quality standards and an easy to clean front glass panel that is guaranteed against scratches during normal use.
"We have received anecdotal reports from physicians stating that our ultra-wide color gamut displays enable more efficient identification of tissue anomalies, and faster procedure times," Ross added.
Surgical team visibility
Hilary Dilsaver, Olympus Corporation of the Americas, says 4K monitors enable the entire OR team to clearly see what is happening in the surgical field.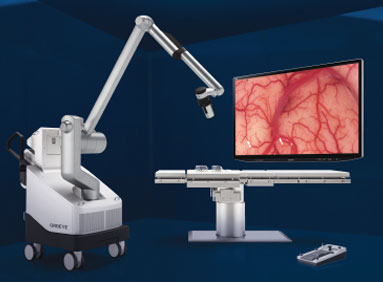 "The most common 4K resolution in the medical field is 3840 x 2160," said Phillips. "4K offers four times the number of pixels and therefore four times the detail of HD video. 4K has a wider color gamut. This is important in the medical field as the 4K monitors can display a broader spectrum of reds, which can be beneficial in the OR environment. I suspect that 4K will be around for a while; however, 8K will make it to the medical field eventually as well as other ways to enhance image quality (color, brightness, contrast) to display more true-to-life images."
Bondulich explains how the use of 4K 3D medical displays in endoscopic and robotic surgeries has been growing as surgeons require enhanced visualization to perform these advanced procedures.
"The integration of 3D medical displays in 3D endoscopic and robotic systems allows everyone in the OR to see and benefit from enhanced depth perception," said Bondulich.
Microsurgery
While procedures performed via endoscope or laparoscope present challenges when it comes to visualization of the anatomy, surgeries involving an operating microscope, such as neurosurgery, require an even greater level of imaging detail.
In 2013, the joint venture Sony Olympus Medical Solutions (SOMED) was formed with the goal if contributing to advances in the medical field by developing advanced medical imaging 3D 4K technology that draws on Sony's state-of-the-art digital imaging technologies and know-how, especially for 4K imaging, as well as Olympus lenses and optical technologies, complemented by the Olympus experience in medical equipment manufacture and development. This technology is offered in a 4K 3D monitor with the ORBEYE video microscope, which won the 2018 Edison Gold Award, as well as with the laparoscopic 3D ENDOEYE flex.
"When you think of 3D in the movies, the images come out towards you," said Julianna Uresch, also of Olympus. "With the ORBEYE and the Olympus 4K 3D monitor, the parallax is reversed and you can experience the instruments going into the patient cavity. And in neurosurgery, where everything is done using a microscope, being able to have everyone in the room seeing the surgery is groundbreaking, and a lot easier on the surgeon's spine, as s/he is no longer tethered to a traditional microscope allowing a more ergonomic heads-up posture and positioning. The 55-inch 4K 3D monitor gives everyone in the room the same high quality immersive view of the brain with a magnification up to 26 times, making it a valuable tool for surgeon education and training. What's also great about this monitor is that it will revert to regular 4K when 3D isn't needed."
Radiology
Impellizeri explains how radiologists use radiology monitors to diagnose patient images acquired by various medical imaging modalities. He says they require high spatial display resolution and high brightness to meet stringent (ACR-AAPM-SIIM) guidelines. These monitors must also meet the international Digital Imaging and Communications in Medicine (DICOM) Part 14 GSDF (Grayscale Standard Display Function) display standard.  .
"Radiology monitors must be calibrated to meet the DICOM Part 14 GSDF standard so the radiologist can see all possible shades of gray," said Impellizeri. "Monitors should also contain a backlight sensor to maintain calibrated DICOM brightness over time, and a calibration solution to perform periodic quality assurance tests to ensure DICOM display conformance with the ability to recalibrate."
"FSN Medical Technologies offers many sizes and options for the radiology suite, including economical, DICOM-ready medical grade displays," said the company's field manager Jim Dietz.
Multipurpose monitors
The ability to use a single monitor for multiple purposes, or a single manufacturer's monitors throughout a facility, can streamline staff education, set up and maintenance.
"Tru-Vu medical grade displays and touch screens are designed to be used in numerous areas within a health facility; from nurses' stations and patient check-in to medical carts and critical image viewing in the OR," said Ruterschmidt. 
Ruterschmidt says Tru-Vu carries a complete line of products to fit the medical facility's requirements. "Our displays and touch screens have higher-end components than standard consumer displays to ensure longer life and improved image quality. These are available with 21.5", 23.8" and 27" screen sizes."
References
1. ACR-AAPM-SIIM Technical Standard for Electronic Practice of Medical Imaging, Revised 2017,https://cdn.ymaws.com/siim.org/resource/resmgr/guidelines/elec-practice-medimag-2017.pdf
2. World Neurosurg. 2018 Dec;120:e932-e939. doi: 10.1016/j.wneu.2018.08.193. Epub 2018 Sep 3.